This communication covers:
Upbeat Club Meeting/Board Elections/Open Positions
Jazz 'n Cakes
Lakota West Colorguard Auditions
Kroger Awards / AmazonSmile
Stay Connected
Calendar
Lakota West Upbeat Club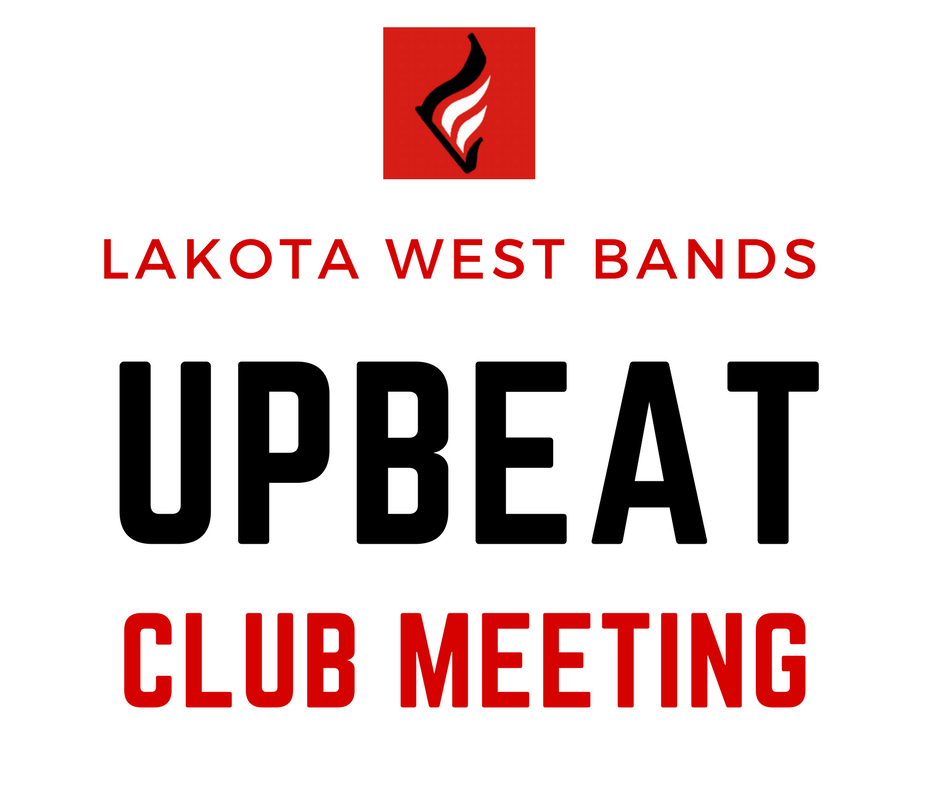 6:30pm – Directors' Update
7pm – Upbeat Club meeting and 2018-19 Board elections
All parents of current 7th-12th grade Lakota West Band and Colorguard students are welcome!
Agenda – will be available at meeting
Upbeat Lead Open Postions for 2018-19
Please go to our Key Contacts page on our web site to see the many Parent Lead Positions that we have in place to support the Lakota West Band Program. Those that are open for the 2018-19 school-year are noted. Any and all questions can be sent to communications@lakotawestbands.org and look for more information in future communications. The urgent needs are Concert and Marching Uniform co-leads ( two for Marching, two for Concert Uniforms) due to the current leaders not returning in 2018-19. There are some upcoming shadowing opportunities that would be most beneficial for the new leaders to experience.
Jazz 'n Cakes is this Saturday!
Volunteer! We have 50 more adult shifts to fill and 80 more student shifts to fill before Saturday!
We need many volunteers for this event! Great way to meet people, hear great music and support our band program!  Click here for signup tool for both parents AND students. No paper signups – all is online.  Please join us in supporting our students and directors.
Facebook  – The event is posted on our Facebook page, please use that to share and invite your friends and neighbors.
Twitter – retweet our event to help spread the word.
Event info  – go to our web site for more information
Raffle Ticket presale extended through Wednesday!
We've had a great response, so don't miss your change to purchase pre-sale raffle tickets! Online ordering is still available! Go to page to order with pre-sale prices!  Your tickets will be ready and labeled for you to pick up at event.
PRE-SALE PRICES below:
$20 – 40 tickets (includes 5 extra tickets)
$30 – 70 tickets (includes 10 extra tickets)
$50 – 125 tickets (includes 15 extra tickets)
$100 – 300 tickets (includes 50 extra tickets)
$200 – 650 tickets (includes 50 extra tickets)
Lakota West Colorguard Auditions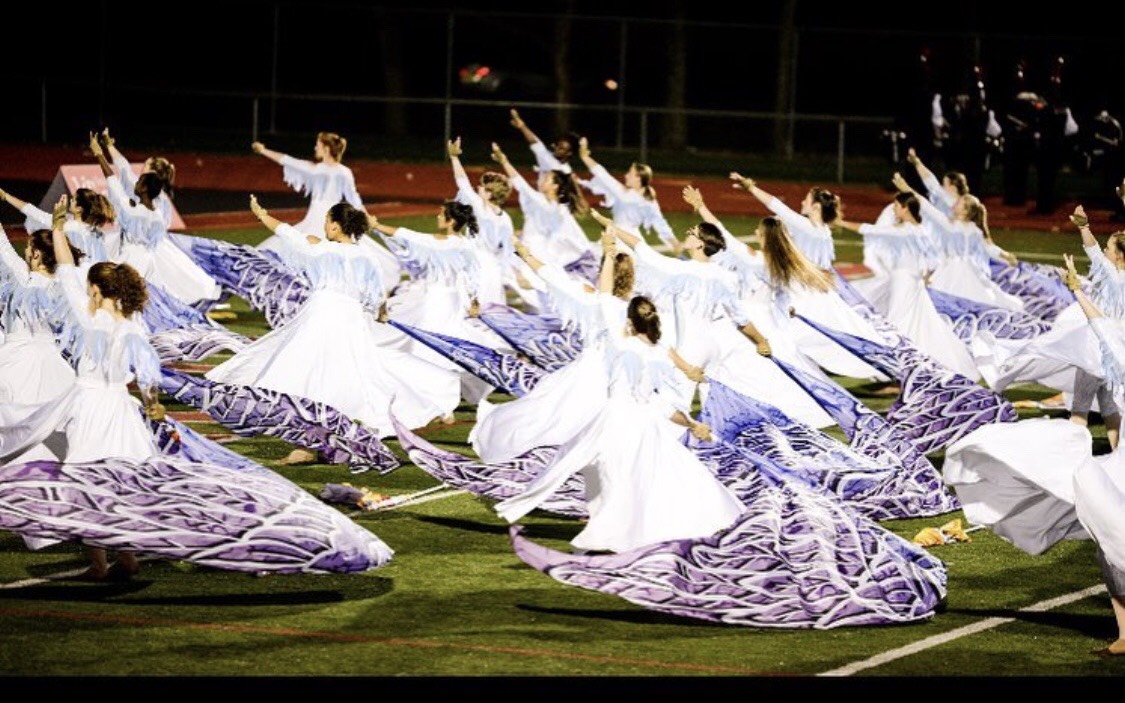 No experience necessary!  Clinic and auditions will be held April 30 and May 2 from 6-9pm at the freshman building. Students must attend BOTH dates. For questions, contact Shelby Klamert at lakotawestcg@gmail.com.
Kroger Rewards and Amazon Smile

Shopping for that special graduate?  Planning family gatherings?
Kroger Rewards – You can sign up any time to have your Kroger Rewards automatically go towards helping the bands! If you find it hard to volunteer your time, this is another great way to help support the band program. See page for more information. 
Amazon Smile – it is a simple and automatic way for you to support Lakota West Bands every time you shop, at no cost to you. On your first visit to AmazonSmile (smile.amazon.com), you will need to select "Lakota West Upbeat Club" before you begin shopping. Amazon will remember your selection, and then every eligible purchase you make at smile.amazon.com will result in a donation.
Stay Connected!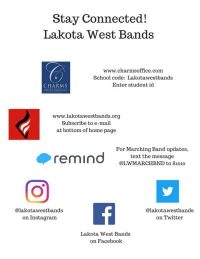 Lakota West Bands use a number of communication methods to keep parents, students and our community updated – see below.
Critical /Highly Recommended:
Charms  Office Assistant– Thee communication tool used by our Band Directors. Mandatory compliance is required.  Parents are responsible for maintaining  email and contact information throughout the year. Information is NOT pulled from the district. This is a stand alone system used for Lakota West Bands. Vets – this applies to you! Rookies – you will hear more soon! For more info visit our CHARMS web page.
Website  – home page holds all recent email blasts that you can subscribe to below, also houses calendar, uniform info, honors, resources, contacts, summer camps, volunteer opportunities, band day info, handbook (coming soon), spiritwear and much much more.
Calendar / Subscribe to Calendar   – place to go for most accurate/up to date info
Subscribe to email blasts from website – used by both Directors and Upbeat Club
Important/Optional/Usefule for updates, reminders,  and recognition of students and program:
Facebook
Twitter
Instagram
Remind Texts – Used currently for Marching Band only – 2018 info not yet available
Highlights from the Calendar
Calendar – click here for link
Thursday April 19 –

Directors' update at 6:30pm
Upbeat meeting and Board Elections at 7pm, Main Campus

TBD Marching Band Assessment and New Parent Meeting for 2018 Rookies
Saturday April 21 – Jazz 'n Cakes from 8a-12p
Monday Apr 30 AND Tuesday May 2 – Colorguard Auditions at Freshman Building from 6-9
Monday May 7 – Main Campus Spring Concert at 7pm
Wednesday May 9 – Lakota Jazz Concert at 6pm at East
Thursday May 10 –

Plains Jr Concert – 6:30pm
Ridge Jr Concert – 6:30pm
Band Awards, Main Campus – 7:30pm

Friday May 11 – Last day for Seniors
Tuesday May 15 – Freshman Bands Concert – 7pm
Thursday May 17 –

NO Upbeat Meeting (rescheduled to 5/30)
West Graduation – combination of Concert and Symphonic Bands perform

Wednesday May 23 – Last day of school K-11
Monday May 28 – Memorial Day Parade
Tuesday May 29 – Mini Camp from 1-9pm
Wednesday May 30 – Mini Camp from 1-9pm with Upbeat meeting at 7pm and Parent Band Show at 8:30pm