A communication of the Lakota West Band Directors and Upbeat Club:
This communication covers:
Spring Concerts
Sponsorship Opportunity
Lakota West Upbeat Club
Kroger
Class of 2019
Memorial Day
Mini Band Camp
Color Guard
2019 Competition Show
Calendar
Spring Concerts
What a fantastic spring season of concerts, awards and celebrations! Here are links to the photo albums that captured so many special moments.
Percussion Concert – https://flic.kr/s/aHsmAQwssF
Freshman Concert – https://flic.kr/s/aHsmycTzed
Jazz Concert – https://flic.kr/s/aHsmB5KHVz
Main Campus Concert and Concertos – https://flic.kr/s/aHsmD6gbhH
Band Awards – https://flic.kr/s/aHsmDaoYW6
Windfest2019 – now available on YouTube and Spotify! – https://open.spotify.com/album/0rhcq5fMomLoViBtaWF5HR?si=sAHFquAmQZ6Hk3SkgLCqxw
Plains Jr High Concert
Did you hear about the piece Mr. Chumley premiered at the concert? He had a piece written for his 8th grade band – Zig Zag. In his words, " I always wanted to have a piece written for one of my bands…I was thrilled to be able to commission Sean O' Loughlin to compose this piece.  It's fun to play with the students getting to play high, fast and loud, while still having to play expressively in the middle section. I hope you enjoy Zig Zag as much as we do."
Sponsorship Opportunity for our Businesses and Vendors

The Lakota West would like to invite area businesses to participate in a new sponsorship program to support Lakota West Bands. Each and every donation directly impacts the program.  Top two levels commitment is needed by June 30. For more information visit the webpage or email sponsorship@lakotawestbands.org.
Lakota West Upbeat Club
Open Positions
Great opportunities to get involved by considering one of the current open lead positions for next year. All open positions will be assisted by the board or by the current lead to ensure a smooth transition. Please see link  to our key contacts page noting where we need to fill some open lead roles – http://lakotawestbands.org/contacts/
Questions  – contact president@lakotawestbands.org.
Our next Upbeat meeting will be on Thursday 8/15 at 6:30pm in the West Freshman band room. Upbeat Board is available at 6pm for any questions. All vet and rookie parents are welcome!
Kroger

Do you shop at Kroger? Every time you scan your Kroger Plus Card, you could earn money for Lakota West Bands. Link to page with more information – http://lakotawestbands.org/kroger-cards/
Thank you for supporting the Lakota West Bands!
Class of 2019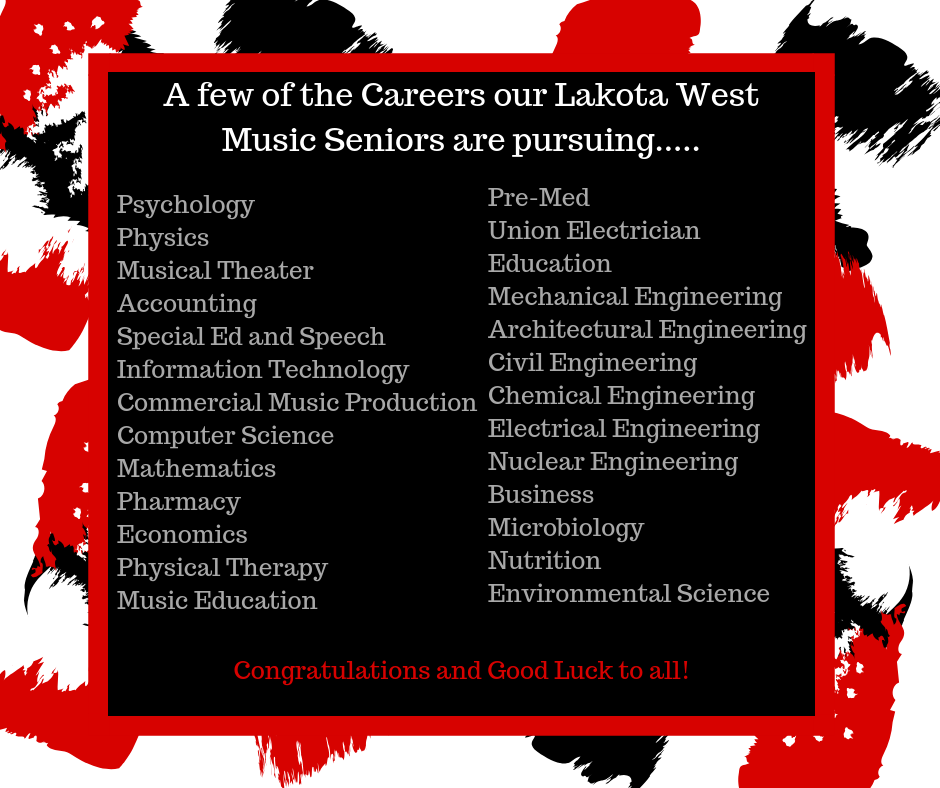 Congratulations and good luck to our class of 2019.  We are so proud of all they have accomplished while in Lakota, and appreciate the pride, dedication and commitment they have shown. We were amazed at both the diversity as well as the level of difficulty of some of the majors that our students will be pursuing next year.
If you missed the Band Awards, here is our traditional senior slide show, thank you Rick Merk for putting this together! Enjoy! http://bit.ly/2K19xpl
2019 Lakota West Scholarship and Award Recipients
Bill Weatherwax Memorial Scholarship – Charlie Merk
Greg Snyder Coda Scholarship – Jack Greenlee and Emilee Warne
Louis Armstrong Jazz Award – Charlie Merk
John Philip Sousa Award – Jack Greenlee
Congratulations to these awardees and all our seniors! You will be missed!! To see all the awards and honors see our honors webpage here (all years are viewable) – http://lakotawestbands.org/honors/2018-2019-honors/ 
Memorial Day Parade May 27
Email went out from Mr. Carr on May 21 through Charms with more information.
Map of parade route – http://lakotawestbands.org/wp-content/uploads/2019/05/2019-Map-of-Parade-route.png
9:15am (Approximate) Drop off at GE Aviation
10:00am Parade starts (Fight Song Only)
We play the Star Spangled Banner during the ceremony in the cemetery. Students will be dismissed as soon as the ceremony is over.
Mini Band Camp May 28-30, and Rookie Parent Meeting May 30, 7pm
2019 Band Season is here with Mini Band Camp next week! Tuesday through Thursday from 1-9 at the Freshman Building. Pack a dinner/have it dropped off on Tuesday and Wednesday, and pizza will be provided on Thursday. Come to the Camp Preview on the Freshman field on Thursday after the parent meeting at 8:30pm.
Mini Band Camp Reminders
Get healthy and hydrated BEFORE Band Camp

Increase the water intake at least 2 days prior to camp
Eat a good breakfast (no milk on very hot days)

Items to bring to EVERY rehearsal including mini camp

Flip Folder for your instrument. Buy 2, they can break, and pages
Sunscreen
Hat
Sunglasses (optional)
Neck straps (2 for cleaning between)
Thick cotton socks and sturdy athletic shoes
Rain gear and/or large plastic bag for items brought to the field
Coordinates (will be distributed at band camp)
64oz Water Jug (labeled with student's name)
New Parents/Rookies Meeting May 30 at 7pm
Photos from Rookie Meeting on 5/15 – https://flic.kr/s/aHsmDxnkLU
Ways to stay connected for rookies, vets, and all parents –  http://lakotawestbands.org/wp-content/uploads/2019/05/Stay-Connected-Flyer-2019-1.pdf
Color Guard 2019
Congratulations to our 50+ Color Guard members for 2019!!
2019-20 Color Guard page – http://lakotawestbands.org/color-guard/
Audition Photos – https://flic.kr/s/aHskUhhDmG and https://flic.kr/s/aHsmxR3EVS
2019 Competition Show
Link to the reveal of our 2019 competition show! http://bit.ly/2LQo0Hh
For the Calendar (2019-20 is now entered on calendar)
Monday 5/27
Tuesday May 28

Mini Band Camp 1-9, Freshman Building

Wednesday May 29

Mini Band Camp 1-9, Freshman Building

Thursday May 30

Mini Band Camp 1-9, Freshman Building
Rookie Parent Meeting 7pm in Freshman Theater
Camp Preview at 8:00pm

Thursday July 18

Marching Band Leadership Retreat all day

Monday July 22
Saturday August 24
Saturday Sept 21