A communication of the Lakota West Band Directors and Upbeat Club:
This communication covers:
Lakota West Upbeat Club
Kroger Rewards
Tag Day
Mattress Sale
Band Camp
Leadership Team
Photos
Calendar
Lakota West Upbeat Club/Email
Open Positions
Great opportunities to get involved by considering one of the current open lead positions for next year. All open positions will be assisted by the board or by the current lead to ensure a smooth transition. Please see link  to our key contacts page noting where we need to fill some open lead roles – https://lakotawestbands.org/contacts/
Questions  – contact president@lakotawestbands.org .
Our next Upbeat meeting will be on Thursday 8/15 at 6:30pm in the West Freshman band room. Upbeat Board is available at 6pm for any questions. All vet and rookie parents are welcome!
New Band email – LWUpbeat@gmail.com. We are aware that yahoo email accounts do not work with our band emails so we set this up as an interim solution. The email goes to the Exec Board, so it can be used for anything. They will get the information requested, or put you in touch with the appropriate Upbeat member.
Kroger  – Donate rewards!

Do you shop at Kroger? Every time you scan your Kroger Plus Card, you could earn money for Lakota West Bands. Link to page with more information – https://lakotawestbands.org/kroger-cards/
Thank you for supporting the Lakota West Bands!
Band Camp Starts July 22 – Call for Volunteers!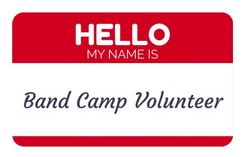 Band Camp starts soon! Our students and directors need help in order to make band camp safe, productive, and even fun! Volunteers are needed to serve meals, maintain water stations, chaperone events, help at first aid stations, and more.  Other than a willingness to help, no special skills are required. Thanks for your assistance and support!
Click here for sign-up link.
Reminder – Pre-Camp is week of 7/22, Band Camp is week of 7/29, and Post Camp is week of 8/5.  The majority is at the Freshman building.  See schedule and locations here on our calendar.
Tag Day is Saturday August 24
Our biggest fundraiser of the year! Money goes mainly towards our uniform fund (both marching and concert uniforms). We absolutely need all parents (as drivers) and students to participate (marching, concert and colorguard). Please reserve your Saturday morning from about 8am-1pm for an amazing event called Lakota Tag Day!
Fund Raiser – 12th Annual Mattress Sale is Saturday Sept 21
No volunteers needed! Just spread the word to neighbors, coworkers, family and friends! Questions contact president@lakotawestbands.org. Please print or share flyer here – FLYER
Leadership Team 2019
Congratulations to our 2019 Leadership Team! These students play an important role in our band every year. They are responsible for their section from now till the end of the season in November. They teach marching skills, endurance, and even some music along the way! They are learning too, to model integrity, commitment and teamwork.They are already hosting sectionals throughout the summer on their own. What a fantastic leadership opportunity for our high school students!
Drum Majors
Yuna Kim, Isaac Yoby, Evy Best, Ben Simpson
Flutes
Lauren Horn*, Sara Dodson, Jessica Lane, Christine Nguyen, Marcela Brower
Clarinets
Hope Stickler*, Imani Armstrong, Ashley Chen, Hayley Wong Liong, Caroline Mitchell
Saxaphones
Alec Reder*, Jake Clayton, Kieran Mansfield, Gabby Obermeyer, Colton Vance
Trumpets
Nathan Simon*, Ian Mason, Gabe Pimental, Zak Scherer, Kerrigan Watts
Mellophones
Thomas Skoog*, Jasmine Ifeakanwa, Andrew Himmelstein, Caden Shirk, Noah Vaillancourt
Low Brass
Christian Bogard*, Henry Wargacki*, Long Nguyen, Jake Guinigundo, Molly Risner, Alex Terwilleger, Tommy Tuttle, Jeremy Newman
Sousaphone
Nathon Sorn*, Davis Mansfield, Jake Ryan
Percussion
Mathew Aude, John Komiensky*, Nate Koenes, Nick LInder*, Alex Merk,  Parker Rampton, Joseph Shucker
Color Guard
Lauren Greco*, Morgan Bolmer, Emily Daiker, Katie Mays, Chloe Parker, Eva Stratman
* Denotes Section Leader
Photo Highlights
Memorial Day Parade
Mini Camp:
Link to Day 1 
Link to Day 2
Link to Day 3
Performance 
For the Calendar (2019-20 is now entered on calendar)
Thursday July 18

Marching Band Leadership Team Retreat

Monday July 22

Pre-Band Camp begins at Lakota West Freshman School!

Tuesday July 23 and Wednesday July 24

Summer Uniform Fittings, and all uniform pieces purchased in evening at main campus (note change to PRE camp from POST camp)

Friday August 9

Band Camp  Tailgate and Preview Show at 6p

Saturday August 24
Saturday Sept 21