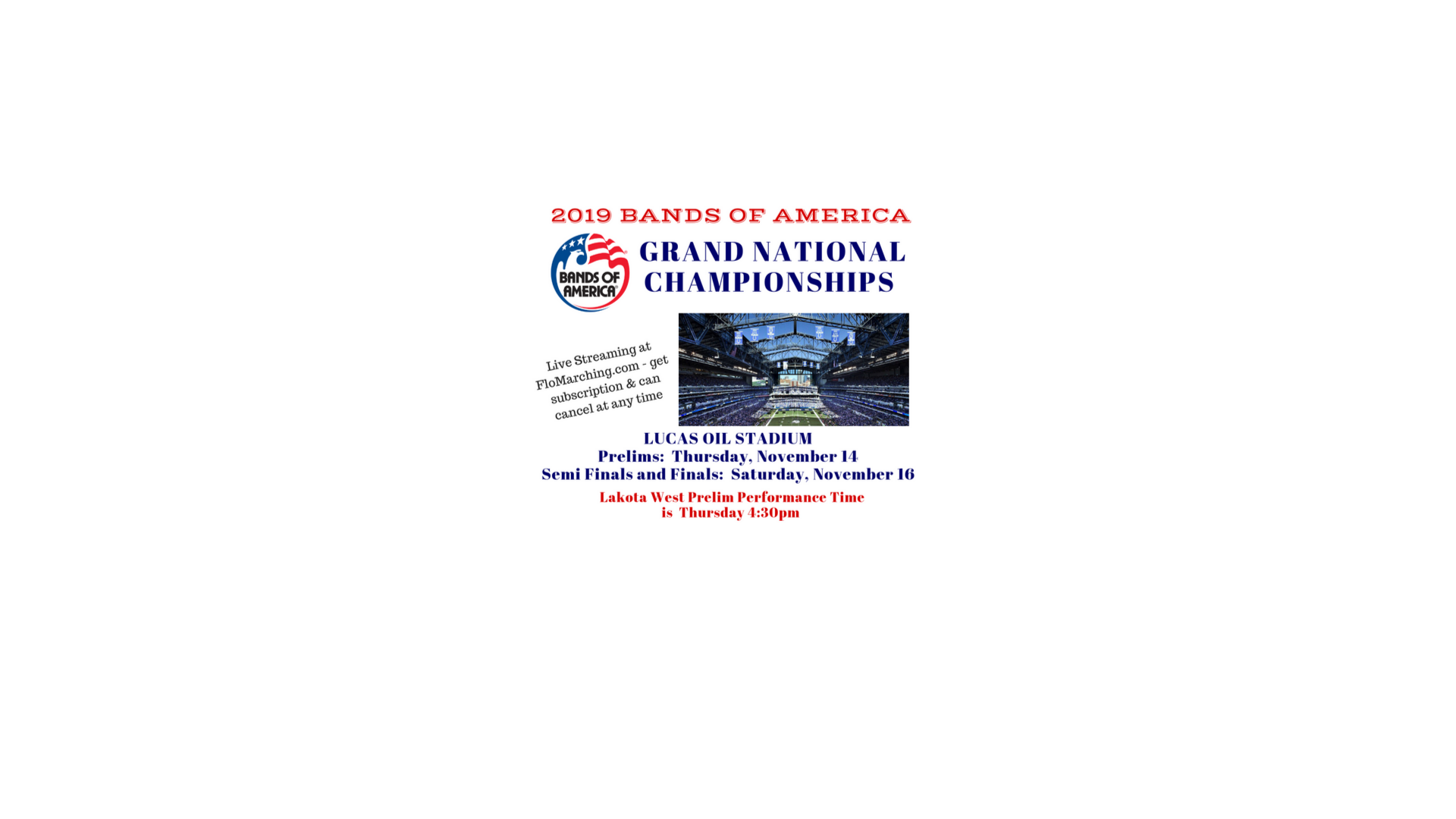 BOA Grand Nationals in Indianapolis Trip Details (updated 11/4)
Parents
Parent meeting was Wednesday 10/23 at 6pm in main campus theater.
Medication (ALL) drop-off is Wednesday 10/23 at 5pm. See below for more information.
We will be doing a send-off at 8:00pm  on Wednesday 11/13 to show our support and see the last run in uniforms before Prelims on Thursday in Indy! Please join us!! All are welcome!
If you have not yet signed up for the REMIND text group, there is still time. Text the message LWMB2019 to 81010.
Costs
Student's cost is $515.00 – this is an all inclusive trip, so all meals are taken care of.  One payment needs to be made via HAC and is due 11/1.
Last year it was agreed upon to send the students with appx $25 in cash for souvenirs or misc items.   You can purchase souvenirs online before or after competition. Link to online store. Link to purchase BOA patch.
Bus and Room Assignments
Room and bus assignments have been completed and were distributed at Parent Meeting on 10/23.
The band is staying at the Embassy Suites Hilton North in Indianapolis.
Packing Guidelines
Itinerary
The practice location is now Grand Park not Pro-X.
Senior skits and speeches will be done Thursday evening.
Medication Procedure
Medication drop-off was Wednesday 10/23 at 5pm in the band room or jazz room at main campus. (Note parent meeting at 6pm)
Medication letter from Upbeat Club explaining process – LINK

Ohio law (ORCORC 3313.718/3313.141) and Lakota School Board Policy 6510 require a

signed permit for the Lakota Band Staff to be able to provide any type of medication

to the students while traveling with the band. This includes Prescription Medications and ALL OVER THE-COUNTER medications, which include Aspirin, Tylenol (acetaminophen), Motrin, Advil (ibuprofen), Tums (antacids), and cough syrup.

Medication Permit – LINK
Medication Form for Overnight Trips – LINK
Medication Form for Epi-Pen – LINK
Meals and Food Allergies
All meals are included.
More information to come regarding special diet or food allergies. Any questions – send to LWUpbeat@gmail.com
Tickets if travelling separately
Prelims and Semis are open seating, however Finals are assigned seats, so you may want to purchase those in advance.
Tickets can be purchased online in advance or at the gate – Tickets to BOA Finals Indy
Bands of America Website
Spectator Guide will be posted when available – Note there are strict rules about what you can take into the stadium. Please review this in advance.
Pictures and Video – this is important – please read
Video and audio recording is

prohibited

.

You will have the opportunity to purchase a DVD of the performance during the event at booths on the concourse.
Any still camera may be used. Family, friends, and fans may take still photos of BOA events for personal use only. The images may not be sold or otherwise distributed, without the written permission of Music for All.  Any still camera (making film or digital still pictures) is allowed and may be used from the spectator seating area of any venue.  Tripods or other similar equipment that may obstruct the view or path of travel of others in seating areas are also not allowed.

NO PHOTOS from FIELD LEVEL or BAND IS DISQUALIFIED.
For live streaming – go to FloMarching site for more information
For professional photos – There will be a photographer on site taking pictures of the band. You may purchase while onsite or online at www.bandgroupphotography.com.
Experience
Grand National Performances – how it all works
For scoring purposes, bands are classified by school enrollment, grades 10-12 only, in Classes A (smallest) through AAAA (largest).  Lakota West is in Class AAAA.
Preliminaries:  Half of the participating bands perform in one of the two separate preliminary contests held on Thursday and Friday.  Each preliminary contest is balanced with like numbers of bands from each class. Lakota West is performing Thursday.
After the preliminary performance, the band will have a group photo and individual photos taken.  You will receive information on how to purchase these photos.
Semifinals:  Approximately thirty-five bands will advance to semifinals – the top 11 scoring bands from each day of the two prelims, regardless of class (22 bands) – plus – the next 8 highest scoring bands from the preliminary round (both days combined), regardless of class – plus – the 2 highest scoring bands from each class from each day of prelims, should they not already be among the first 30 bands selected on the basis of either criteria above.  Bands advancing to semifinals and their performance times will be announced late Friday evening (usually around 10:00 pm).   Semifinal performances will begin on Saturday morning around 8:00 am or earlier.
Semifinals awards are given in each class for 1st, 2nd, and 3rd place, Outstanding Music Performance, Outstanding Visual Performance, and Outstanding General Effect.
Finals:  The top 12 scoring bands from semifinals, regardless of class, advance to Saturday evening's finals.  Bands selected for finals will be announced around 5:00 pm Saturday at the Stadium and on the BOA Twitter feed.  Class Champions (from semifinals) who are not selected for finals competition will perform in exhibition before the 12 bands selected for finals.  Performance times will be determined during a meeting of the directors of the bands involved in the finals which is held immediately after the selections are announced.  The preliminary program begins at 7:00 pm and the band performances begin at 8:00 pm.  The awards program begins around 11:30 pm and may last until midnight or later.
Finals awards are given for each place (1st through 12th), Outstanding Music Performance, Outstanding Visual Performance, and Outstanding General Effect.