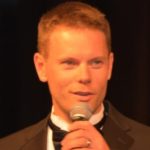 Andrew Carr, Director of Bands, is a 1998 graduate of Lakota West High School. He holds a bachelor's degree in music education from Miami University, and is currently working on his masters of music degree at Miami University during the summers. He has extensive marching band experience. He marched with Lakota West and Miami University, and he has a DCI world championship ring earned with the Cavaliers Drum and Bugle Corps during the 2000 season. He has taken three trips to Europe and Russia on choral tours. During one of these trips he sang in St. Peter's Basilica for Pope John Paul II. He has also had the good fortune to perform with or under the direction of many well-known artists: Gunterh Schuller, Michael Colgrass, Fredrick Fennell, Steven Reineke, Jeff Folkens, Scott Belck, Dana Hall, Wynton Marsalis, Branford Marsalis and A.R. Rahman, to name a few. Mr. Carr remains an active trumpet player, having performed with many professional and amateur groups. He plays regularly in the Emerald City Jazz Orchestra and often performs in and directs musical theater productions. Mr. Carr is an active member in the Ohio Music Education Association. He has regularly attended OMEA contests and often hosted events, acting as the chair of several All-State ensembles. He is also a member of the International Trumpet Guild, and NAfME. Mr. Carr resides in West Chester with his wife Alyssa and two sons, Chandler and Maddox.
---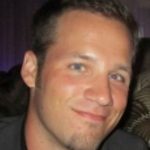 Tom Racic, Freshman Director and Percussion Director, has worked with the Lakota bands since 2008. Mr. Racic has been the percussion director and arranger for the Marching Firebirds for seven years and the assistant marching band director for the past four seasons. Under Mr. Racic's direction, the high school percussion ensembles have been awarded several superior ratings each year at OMEA solo and ensemble contest and have performed in yearly concerts that recently featured the Miami University Steel Band and the NKU Percussion Ensemble. He has also been the Concert Band and the 8 O'clock Jazz Band director at Lakota West. Mr. Racic has been the sixth grade band director at Cherokee, Freedom, Heritage, and Woodland elementary schools. He received his Bachelor of Music degree in Music Education from Northern Kentucky University. Mr. Racic was also a member of the percussion staff at Capital Regiment Drum and Bugle Corps and Magic of Orlando Drum and Bugle Corps. His responsibilities at Lakota West include Freshman Director, Director of Percussion for the six high school concert bands and Marching Firebirds, assistant marching band director, and percussion arranger. He also directs the seven high school percussion ensembles. Mr. Racic is a member of Music Educators National Conference, Ohio Music Education Association, Phi Mu Alpha Sinfonia, the Percussive Arts Society, and the Vic Firth Education Team. He lives in West Chester with his wife Amy and son Van.
---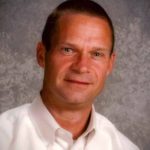 Alan Nordyke, Jazz Band Director at Lakota West Main Campus as well as Lakota East Main and Freshman Campuses, was prior to this assignment a band teacher at Liberty Junior School from 1990 to 2012. He graduated summa cum laude from The Ohio State University in 1989. A graduate of Wilmington High School, where he received the John Philip Sousa Award, Mr. Nordyke was greatly influenced by his junior high/high school band director and private trumpet teacher, Mr. Charles Carothers. It was Mr. Carothers's enthusiasm and positive approach to teaching that gave Mr. Nordyke the desire to pursue a career in music education. In addition to Mr. Carothers, Mr. Raymond Wolford and Mr. Dennis Ling were important influences in Mr. Nordyke's high school band career. While a student at The Ohio State University, Mr. Nordyke furthered his musical skills under the baton of Professor Craig Kirchoff and, during his sophomore year, he performed on a two-week tour of Japan with The Ohio State University Concert Band (now known as The Ohio State University Wind Symphony).
---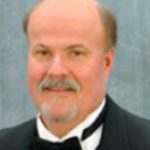 Phil Chumley, Director of Bands at Lakota Plains Junior School, is a graduate of the University of Maryland. He received his Bachelor's degree in Music Education and pursued his Master's Degree in Music Performance. He was Band Director at the Robert Goddard Junior High School in Lanham, Maryland, where his bands consistently received Superior Ratings at County Band Festivals. In 1998, he joined the music faculty at Northern Kentucky University where he was Adjunct Professor of Clarinet. Mr. Chumley became band director at Lakota Plains Junior School in 2003. During his seven years there, the Eighth Grade Bands performed in Class A and consistently received Superior Ratings at district contests. In 2006, the Eighth Grade Band performed in a clinic session at the OMEA Convention, and, in 2008, the band was invited to perform in concert at the OMEA Convention. Mr. Chumley came to the Lakota West High School Band program with a desire to continue the great traditions that have helped Lakota West Band become one of the top bands in the United States. He is a sought-after private instructor for clarinet performance with a studio of as many as 37 students.
---
Sherri Vortek, Director of Bands at Lakota Ridge Junior School, is in her second year of instruction of at Lakota Ridge after serving for several years in the Lakota East band program. She leads all seventh and eighth grade bands as well as the after-school Jazz band program.
---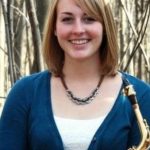 Abby Hinson, Marching Band Woodwind Instructor, is in her second year on the staff at Lakota West. Mrs. Hinson is a 2013 graduate of Bowling Green State University and holds a Bachelor of Music degree in Music Education. As a saxophonist, she studied with Dr. John Sampen and was a member of various quartets, one of which was selected as winner of the BGSU Chamber Music Competition, and has also performed and studied in Florence, Italy. Mrs. Hinson works as Assistant Band Director at Eaton Community Schools and enjoys performing with the Sinclair Community Band.
---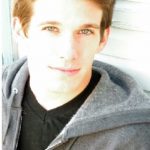 Tim Coady, Color Guard Director, was born and raised in the St. Louis area. While living in Missouri, Tim performed with the Colts Drum and Bugle Corps and the Pride of Missouri State winter guard. After moving to Ohio, Tim broadened his horizons at Zydeco Colorguard, where he was honored with being the 2014 Member of the Year, and the Bluecoats Drum and Bugle Corps, where he served as colorguard captain for the 2011 and 2012 seasons. Tim has a passion for inspiring students through colorguard, and has worked with programs across six states in the Midwest. He has been involved with instructing other awarded programs such as Westerville HS, Centerville HS, LaSalle High School, Miami University and and Juxtaposition Winter Guard. Tim currently resides in Cincinnati, Ohio, serving as a colorguard educator in the Miami Valley.
---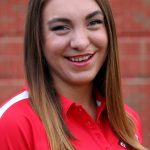 Shelby Klamert, Color Guard Staff
Shelby Klamert began her color guard career at Centerville High School in Ohio in 2006. She performed with the Centerville Jazz Band (marching band), and with the Centerville World Winter Guard. She was the Color Guard Captain during her senior year. Prior to joining color guard, she trained in classical ballet, pointe, modern, and jazz at BalletMet Columbus and then as a member of the Dayton Ballet Junior Company.
Shelby continued her passion for performance after high school by marching with The Cadets from 2010-2013, and is returning to the organization as a staff member for the 2017 season. She has also performed with the Pride of Cincinnati Winter Guard (2012-2015), the Zydeco World Winter Guard (2011), and the inaugural season of the Pride of Cincinnati Dance Ensemble (2014). Additionally, she toured Japan in 2014 with the cast of Blast! as the female Visual Ensemble Swing.
Shelby's other teaching and choreography experience includes Archbishop Alter High School, Beavercreek High School, and Centerville High School. Outside of her time spent teaching color guard, Shelby works full-time in accounting and enjoys running.
---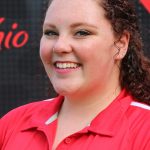 Kayla DiLorenzo, Color Guard Staff