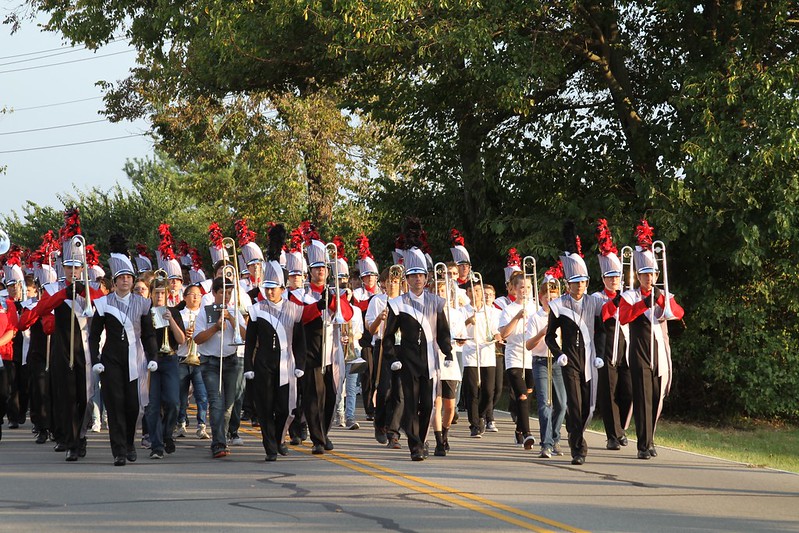 Lakota West Band Night is Friday October 1. 2021
Updated 9/6/21
The Marching Firebirds will celebrate the up-and-coming students in the Lakota West Bands program before and during the Lakota West home football game. This celebration — formerly known as Freshman Night — will put a welcoming spotlight on Ridge and Plains eighth graders, as well as Lakota West freshmen with:
a before-game pizza party with current members of the Marching Firebirds,
the honor of parading with the Marching Firebirds into the stadium before the start of the game.
the thrill of going onto the football field with the Marching Firebirds to perform some hit tunes, and
the fun of spending time with the Marching Firebirds in their north endzone stands.
Read below to learn about the dress code, equipment needs and schedule
Dress Code and equipment needs:
For rehearsals, wear a T-shirt, athletic shorts, sturdy athletic shoes and thick socks. A bottle of water, sunscreen, baseball hat and/or sunglasses are also recommended. Bring your instrument as well as a lyre and flip folder with your music.
On Friday night: Freshmen should wear the Lakota West Bands T-shirt that the Upbeat Club purchased for them, as well as jeans and athletic shoes with socks. Eighth graders should wear their band polos, jeans and athletic shoes with socks. All should bring their instruments, lyres and flip folders with music.
---
Schedule
Rehearsals
Times TBA
Friday Night Schedule:
6:25pm – Band marches to the stadium
6:45pm- Pre-Game
7:00pm- Game Starts
Halftime- Band Night
Postgame – Competition Show