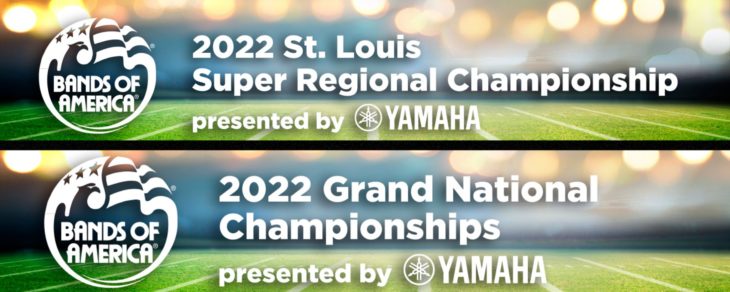 Registration
Cost and Payment Schedule
$900 total for BOTH trips (reflecting a $50 reduction from original due to fundraising)
August 26 – $350 due
September 15 – $350 due
October 15 – $200 due
Medication
Important Information about Medication Drop Off and Required Forms
Drop off for the St. Louis trip – Sept. 27 | 4:00-6:00pm | Main Campus Band Room
Drop off for Indianapolis trip – Oct. 26 | 5:15-6:45pm | Freshman Band Room. Additional paperwork will not be required if turned in for St. Louis.
Parent Meeting
Sept. 29 | 6:30pm | Freshman Theater
Chaperone Reminders:
Bring a backpack – at all times you will need to keep a binder and medications with you.
Bring a portable battery pack to keep phones charged up – we will be doing all of our communicating via messaging.
---
BOA Grand Nationals | Indianapolis
November 10-13
Hotel
Sheraton Indianapolis Hotel at Keystone Crossing
Send off Performance
Wednesday, November 9 | 8:30pm | Lakota EAST Stadium
Day 1, 11/10, Thursday – 8:30am report to Main Campus; Travel to Lucas Oil Field; PERFORMANCE – 6:45pm (Students should NOT go to classes before reporting)
Day 2, 11/11, Friday – Sightseeing Indianapolis; Return to competition to watch bands and preliminary awards (Semi-finalists announced)
Day 3, 11/12, Saturday – Our schedule will alter based on outcome of prelims
Semi-Finals & Finals
Day 4, 11/13, Sunday – Morning departure for home
Approx. arrival at West Main is 1:00pm – updates will be shared through Remind.
Chaperones
Info has been shared through email. For safety reasons, this information will not be posted online.
LInk to BOA Grand Nationals event Details – find information to watch online HERE
PACKING LIST
Marching Members
Drill Masters
Black socks – midcalf length
Gloves
Compression short/pants
Show T-shirt for under show uniform shirt
Hair accessories to keep hair up off neck (bands, bobbie pins etc.)
Shako/Beret
Parka
Guard Members
Hair piece -items to style hair and secure in place
Make up items
Undergarments needed for under uniform
Everjazz shoes
Gloves
Warmups
Parka
---
FAQ's
---
---
---
---
---
Thank you for your assistance in making St. Louis a wonderful trip!
BOA Super Regionals | St. Louis
October 14-16
Hotel
Drury Plaza Hotel St. Louis at the Arch
Spectator Guide
Dates of Travel/Itinerary
Day 1, 10/14, Friday – Group departs school for St. Louis
Freshman students dismissed at 1:30, bus will take them to Main Campus
Main campus students report to band room at end of 6th bell
Time zone will change from EDT TO CDT and performance times will be listed as CDT, adjust accordingly.
Arrive in St. Louis approx. 9pm (CDT)
**Please see the 'Trip FAQ's' (first question) with options for what students can do with their personal items. Students may take luggage to school in the morning and leave Chromebooks and backpacks at school over the weekend, or you may meet them after school to exchange.
Day 2, 10/15, Saturday – PERFORMANCE DAY!
Performance time – 8:45am (CDT)
Remainder of day includes a nap, returning to competition to watch bands and preliminary awards and hopefully performing again in finals.
Finals performances 7pm-10:00pm | Awards 10:45pm
Day 3, 10/16, Sunday – Sightseeing/Return to LWHS
Approx arrival time at West Main is 11:00pm. Updates will be shared through Remind.
Medication Drop-Off
September 27 | 4:00-6:00pm | Main Campus Band Room
If you haven't dropped off medications or turned in paperwork for inhalers, please reach out to the school nurse ASAP. Robin Robinson, robin.robinson@lakotaonline.com
Link to BOA St. Louis event Details – purchase tickets HERE or find information to watch online HERE
Chaperones
Info was shared at parent meeting and will be emailed through Charms. For safety reasons, this information will not be posted online.
PACKING LIST
Link to full packing list for St. Louis
Marching Members
Drill Masters
Black socks – midcalf length
Gloves
Compression short/pants
Show T-shirt for under show uniform shirt
Hair accessories to keep hair up off neck (bands, bobbie pins etc.)
Shako/Beret
Parka
Guard Members
Hair piece -items to style hair and secure in place
Make up items
Undergarments needed for under uniform
Everjazz shoes
Gloves
Warmups
Parka
---