A communication of the Lakota West Upbeat Club and Directors:
This communication covers:
Taste for Music Fundraiser
Winter Guard
Upbeat Club Meeting
Jazz 'n Cakes
Summer Opportunities
Calendar
Taste for Music at Chipotle on Tuesday March 10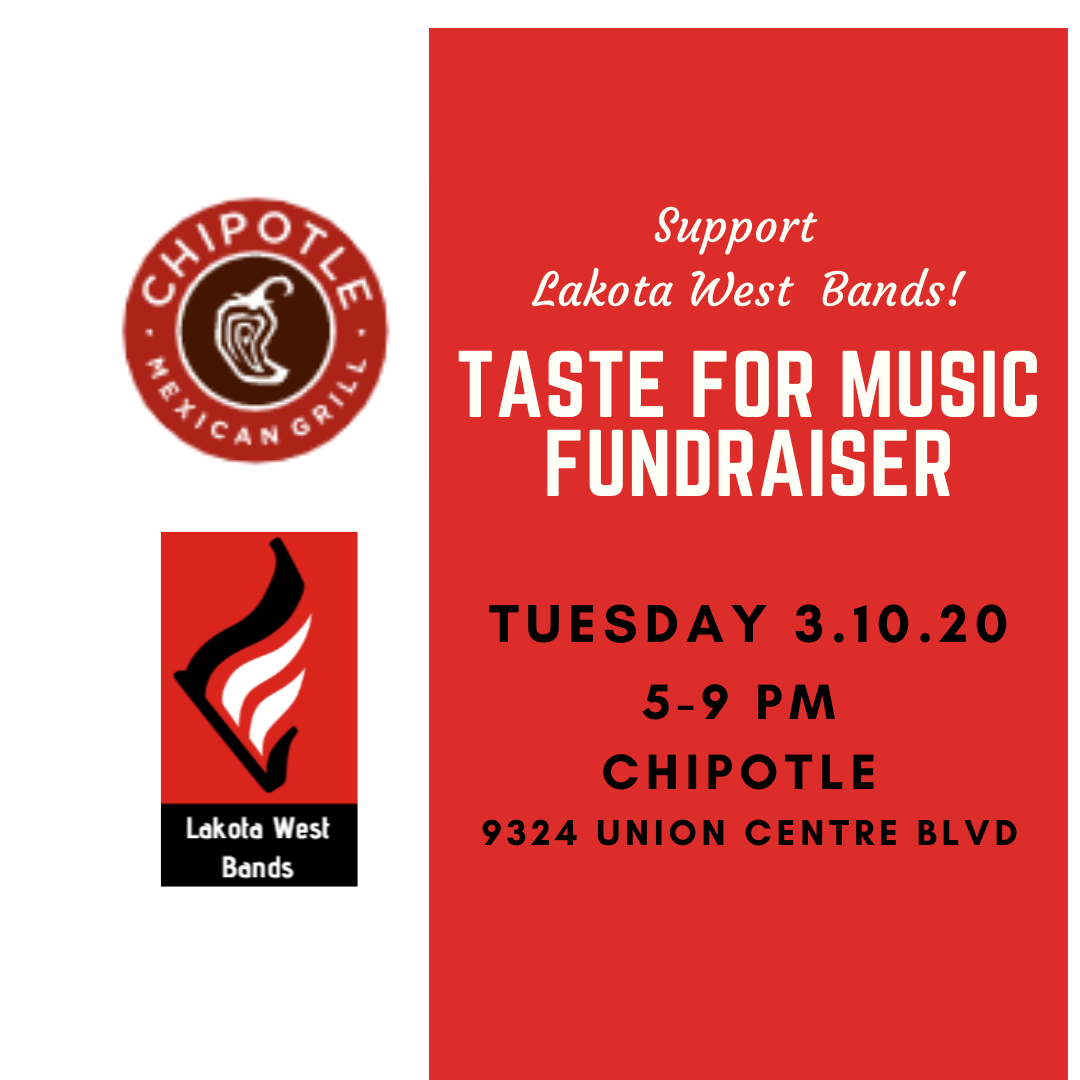 Hope you can join us for a tasty meal and a donation to your favorite band program!
Chipotle at 9324 Union Centre Blvd
Flyer – http://bit.ly/39Bl8oO
Winter Guard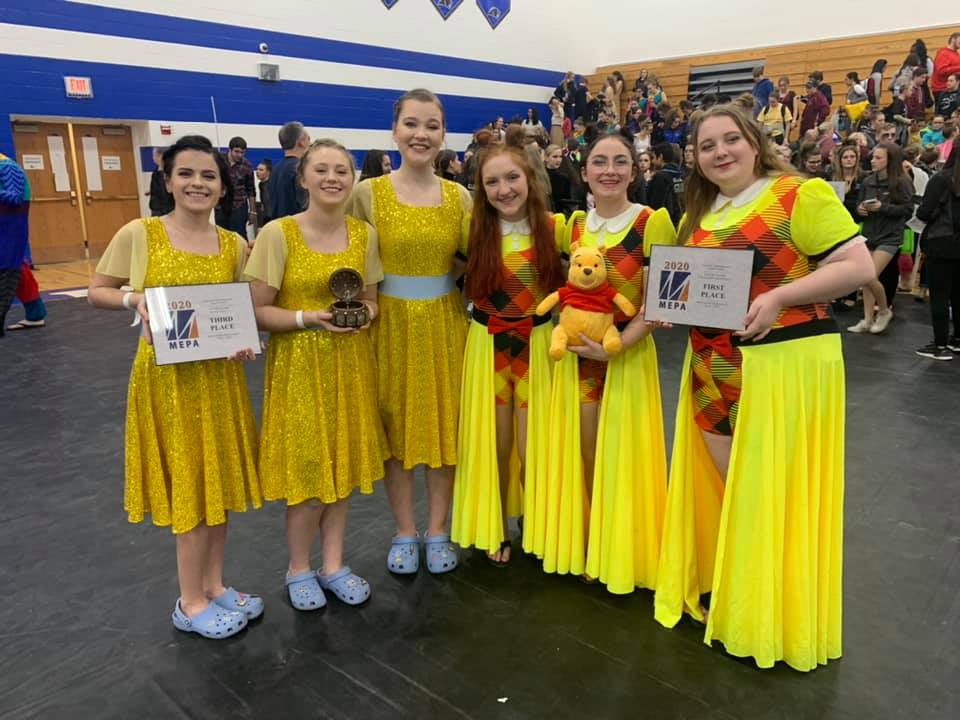 Congratulations to both Jr Varsity and  Varsity Winter Guards for strong performances at the MEPA competition this weekend! JV took 1st in Scholastic Regional A and Varsity placed 3rd in Scholastic A!
Upbeat Club Meeting is Thursday March 26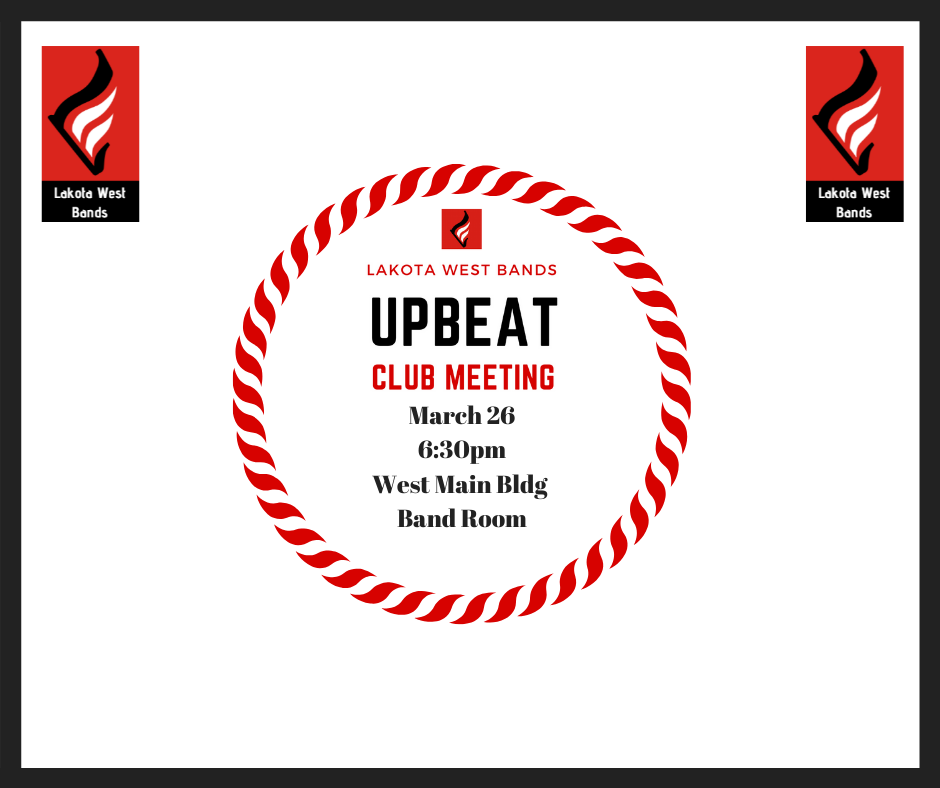 Join us to find out what is on the horizon, get questions answered, or meet some band parents! Note meeting changed dates due to Spring Break.
Current openings for 2020-21 include the following:
VP Freshman, Secretary, Publicity and Media Design, Jazz 'n Cakes Event Lead, Mattress Sale, Spiritwear, Try Band
There are also a number of parents 'senioring out' next year due to their youngest/only child in the program will be graduating in 2021. We encourage our volunteers to take advantage of their experience and guidance by shadowing them this next year in their current role.
Roles needing a shadow for 2021 because they will be open in 2021-2022 include the following:
President, VP, Treasurer, Communications Lead, Website, Vendor Lead  for Jazz 'n Cakes, Photographer Lead, Pit Crew Lead, Swing Dance Lead, Tag Day Lead
Jazz 'n Cakes is Saturday March 28

Lakota West's 23nd annual Jazz 'n Cakes is Saturday, March 28th from 8 am – noon at the Lakota West Main Campus. This fun family event, sponsored by the Lakota West Upbeat Club, features live jazz music performed by our students and an all-you-can-eat pancake, eggs and sausage breakfast. Proceeds support ALL Lakota West Bands, Colorguard, and Winterguard, as well as the Dan Kenworthy and Bill Weatherwax Memorial Scholarship Fund.
Tickets:
Jazz 'n Cakes tickets were distributed at the winter concerts or in  class to all band students.  We ask that each band student sell 5 tickets. Please return  all payments or unsold tickets to Mr. Carr or Mr. Celek no later than Thursday March 12 due to spring break. Possible option – send in a check for $35 for the 5 tickets and continue to sell the tickets that you have been given during the final 2 weeks before the event!
Volunteers
Descriptions for each position available when you click on the link to sign up:
Presale Basket Raffle Tickets Online Sale!
Order online here and tickets will be available to pick up at the Jazz 'n Cakes Basket Raffle table at the event, labeled and ready.
$20 for 40 raffle tickets (5 tickets more than day of event)
$30 for 70 raffle tickets (10 tickets more than day of event)
$50 for 125 raffle tickets (15 tickets more than day of event)
$100 for 300 raffle tickets (50 tickets more than day of event)
Lincoln Drive Event during Jazz 'n Cakes
Drive event during Jazz n' Cakes from 8:30am – 1:30pm sponsored by Montgomery Lincoln Mercury.  This is a huge fundraising opportunity for the band program.  The event is purely for research.  You drive the vehicle(s) and you fill out a survey about your thoughts on the vehicle.  You will not be contacted after the event.  You must be 18 yrs or older to drive and there will be set course.  Sign up now! https://www.signupgenius.com/go/4090548afab2da20-lincoln
Help Promote Event!
Print flyer and share at work – http://bit.ly/2IEwo7X
Use the Facebook event to invite your friends!  Facebook Event
Click 'going' on the Facebook event so it shows up to your friends on Facebook (you'll also get notified of any updates to the event)
Follow the band on twitter and retweet any posts about the event!
Not into social media? Just share the information from our website here – http://bit.ly/3cUMs3E
Summer Opportunities
Have you visited our "Helpful Links, Camps and more page"? Lots of information including summer camps. Here are a couple to highlight:

Link to page – https://lakotawestbands.org/links/
The Blue Way Summer Educational Experience 2020, June 6-7

Spend the weekend with the 2020 Bluecoats! Participants at THE BLUE WAY Summer Educational Experience move-in with the corps, spend a weekend rehearsing and socializing with the corps, and even get to perform a portion of the top secret 2020 show music with the Bluecoats!

The Breakdown Camp, June 12-14

Held at Lakota West (!)
Learn the fundamentals of dance needed for today's fast moving and rapidly evolving marching arts musical performer. This one of a kind event will guide you in setting up your dance fundamentals program for the upcoming competitive season.

Music for All Summer Symposium, June 22-27

Music for All has been providing positively life-changing experiences at its summer camp for nearly 45 years. It's America's Camp: the national summer learning experience for band and orchestra students, and teachers. We bring together the best faculty, exciting concerts and events, and students from band and orchestra programs from coast-to-coast who share a love of music-making, performance, and student leadership.

We are always looking for information to update this page, so if you have anything you would like us to include, please send to web@lakotawestbands.org
For the Calendar
Tuesday March 10

Taste for Music at Chipotle on Union Centre Blvd

Thursday March 12

Jazz 'n Cakes Planning meeting at 6:30 at main campus band room
Ticket money or unused tickets returned to directors at school

Saturday March 12 through Thursday March 19

Symphonic Winds trip to New Orleans

Thursday March 26

Upbeat Meeting at 6:30 at West Main

Saturday March 28
Friday April 3 through Sunday April 5

West Musical: Fiddler on the Roof