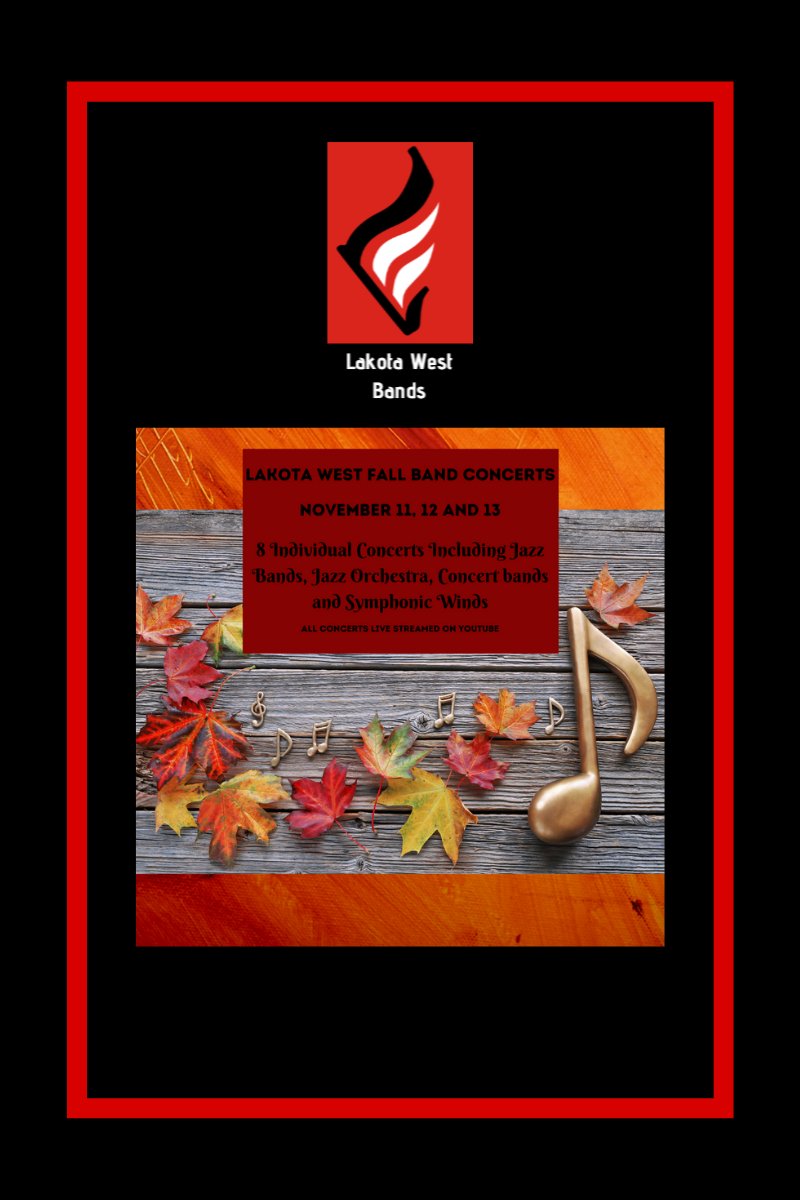 A communication of the Lakota West Upbeat Club and Directors:
This communication covers:
Taste for Music Fundraising Dates
Mattress Sale
Spirit Store Open for the Holidays
More ways to support the program
Fall Concerts
Photos 
Calendar
Taste for Music Fundraising Events
Save these dates!
Tuesday 11/17/20 – Chipotle 

5pm – 9pm
Order online and pickup Chipotle for your fundraiser by using the Promo Code ANCC73Y on the Chipotle app or website. 

Tuesday 12/8/20 – MOD Pizza
Tuesday 1/19/21 – City BBQ
Mattress Sale
Saturday November 14 from 10am – 5pm 
9900 Princeton-Glendale Rd (Not at the High School)
Joint sale with Lakota West Cheer
All Covid-19 safety protocols followed
Tell friends and shoppers to mention a band student so they are eligible for cash prizes and the band gets credit for the sale
Print flyer and receive $50 off!
Spirit Store Open for the Holidays
Great News! Our Upbeat Club has opened the Spirit Shop for holiday shopping! Items are for all Lakota West Band students, not just marching band – check out the new items! Sale ends 11/29.
More ways to support the program
Starting to think about holiday shopping? Consider enrolling in Kroger Community Rewards or AmazonSmile or both!
AmazonSmile is a simple and automatic way for you to support Lakota West Bands every time you shop, at no cost to you. When you shop at smile.amazon.com, you'll find the exact same prices, selection and convenient shopping experience as Amazon.com, with the added bonus that Amazon will donate a portion of the purchase price to the Lakota West Band Program. For more information please go to our web page  – click here
Every time you scan your Kroger Plus Card, you could earn money for The Lakota West Bands! Fore more information, please go to our web page – click here
Fall Concerts
All concerts held at Lakota West Freshman Theater. All attendees must wear a mask at all times. Audience will exit and theater will be cleared after each ensemble performs. Events are for ticketed attendees only. Parent/Guardians have received tickets through Charms email on 11/5.  Please see that communication for additional information from the Directors.
All events will be live streamed on our YouTube channel by our Upbeat Club. Links are below, in the band calendar, and in individual events on Facebook. 
Wednesday 11/11/20
6pm – Freshman Jazz
Freshman Jazz – https://youtu.be/hu5o5iRvh2I
7pm – Main Jazz Lab
Main Jazz Lab – https://youtu.be/F_RDVd2JtTI
8pm – Main Jazz Orchestra
Main Jazz Orchestra – https://youtu.be/JSCiTJzKQQc
Thursday 11/12/20
6pm – Freshman Zero Bell
Freshman Bell 0 – https://youtu.be/YFFfi1n_WZ4
7pm – Freshman 1st Bell
Freshman Bell 1 – https://youtu.be/-cKO_7Cchk8
8pm – Main Campus Concert Band
Main Concert Band – https://youtu.be/BBVEx6qgAOY
Friday 11/13/20
6pm – Symphonic Band
Symphonic Band – https://youtu.be/gxdvR-X_b6w
7:30pm – Symphonic Winds
Symphonic Winds – https://youtu.be/eftxIMqrNeI
Photos
We did not share all the photos during the season that our faithful photo team captured for everyone! Here they are – enjoy! Thank you Photography Team!