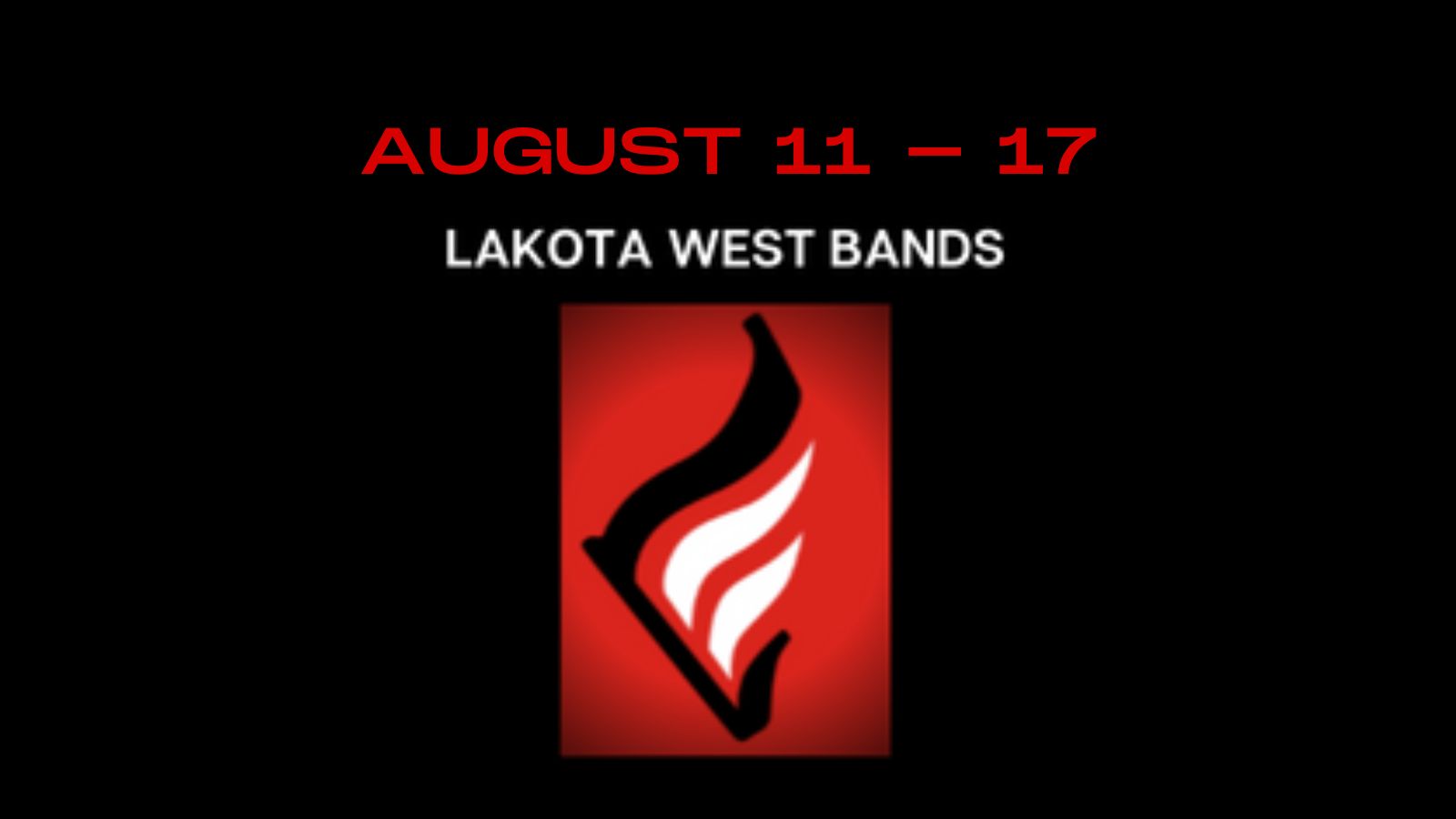 TODAY
Monday 8/14
Wednesday 8/16
No Band Activities
Good Luck to our Students returning to school today (Last Names M-Z)
Thursday 8/17
Good Luck to our Students returning to school today (Last Names A-L)
6-9pm | Rehearsal | Main Campus
6:30pm | Upbeat Club Meeting | Main Campus Band Room
Friday 8/18
---
Volunteers Needed
Monday 8/14 | Last Day of Band Camp
3:45-4pm * water & tents clean-up (4 of 4 needed)
Saturday 8/26 | Tag Day
Invitational | Saturday 9/16
We're looking for someone to head the Hospitality Room during the Inaugural Lakota West Band Invitational. This individual, or group of individuals, would manage & oversee the room serving the bus drivers and directors. For more information, please email invitational@lakotawestbands.org.
---
Tag Day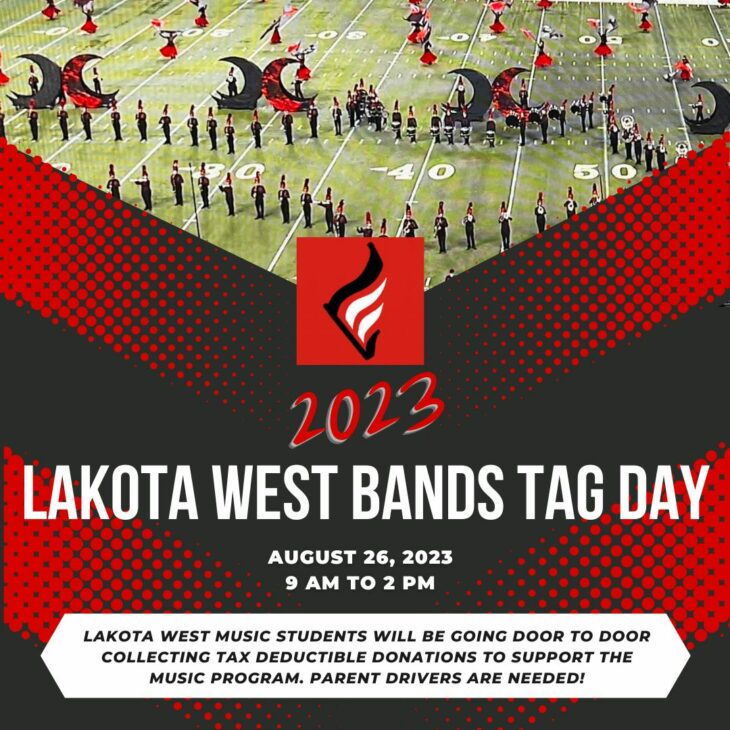 Our biggest fundraiser of the year, Tag Day is right around the corner on Saturday, August 26th! We will be going door to door in West neighborhoods from 10am-2pm, setting up a drive-thru donation site at Lakota West Main Campus, and accepting donations online through our website.
All money collected is used to support the activities of the entire Lakota West band program and to purchase and maintain uniforms for the Marching Band, Symphonic Winds, and Color/Winter Guard.
We will have some new incentives for students this year! Including a new section challenge!
We are asking for everyone's help in making Tag Day 2023 a success, and here's what you can do:
VOLUNTEER
PARENTS, please sign up HERE to be a driver! Take a group of 4 students to a pre-assigned neighborhood and oversee the team canvassing homes for donations.
STUDENTS, Get together in a group of FOUR and have ONE team member sign up your group using this form HERE! Even if you don't have a group of 4, still sign up on the form, so we know you are coming, when you show up we'll match you up with others.
SHARE: We need your help to spread the word and let our community know that we are coming! Please share the social media event posts and TAG DAY VIDEO, invite your friends, retweet, etc. Use #LWTAGDAY2023. Another great place to share is your neighborhood Facebook page … let neighbors know to be on the lookout.
Any questions or ideas to increase donations email tagday@lakotawestbands.org
Please refer to the email sent through Charms on Thursday with additional details!
---
Calendar Raffle
The Calendar Raffle has started! 1 entry gets you a chance to win EVERYDAY totaling more than $5500. Ask your student or any Upbeat Club representative for more details.
Purchase & sell entries using our website HERE. Students also came home with paper copies. Feel free to reprint.
Refer to the email sent through Charms on Monday for full details, explanations, directions & deadlines.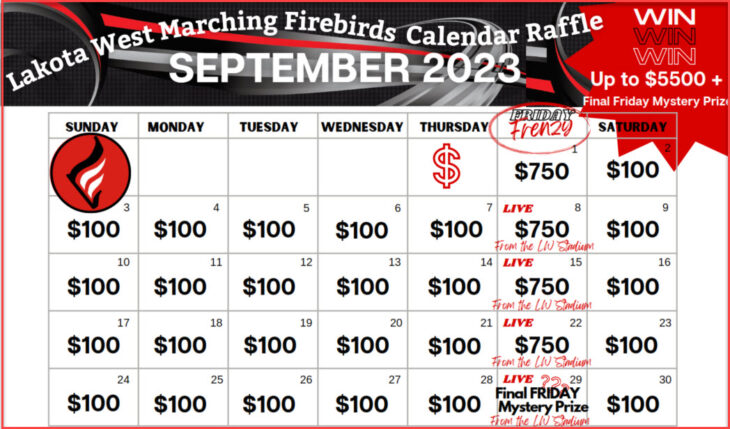 ---
Save the Dates
Tag Day | 8/26 | ALL students are expected to participate & parent drivers will be needed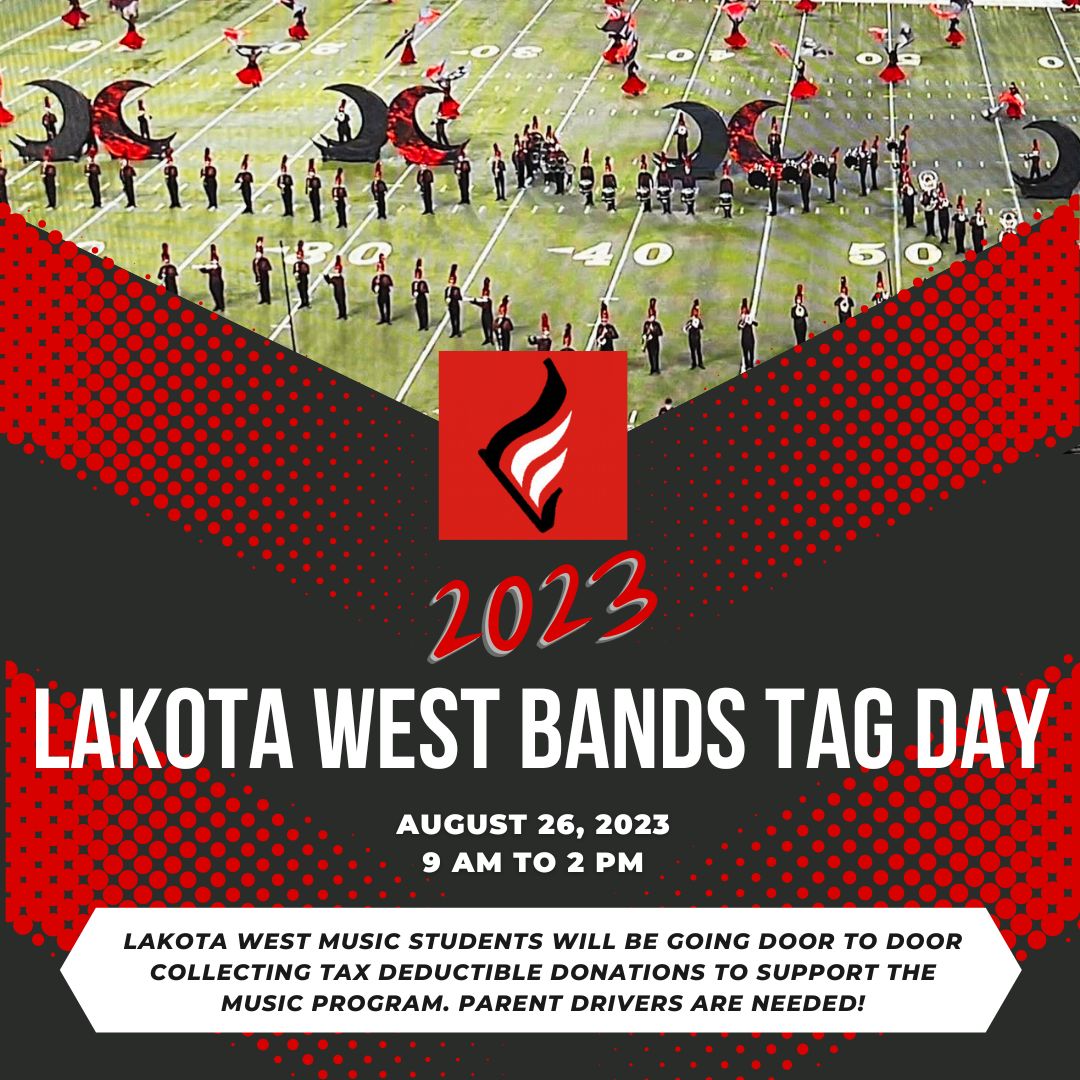 Lakota West Band Invitational | 9/16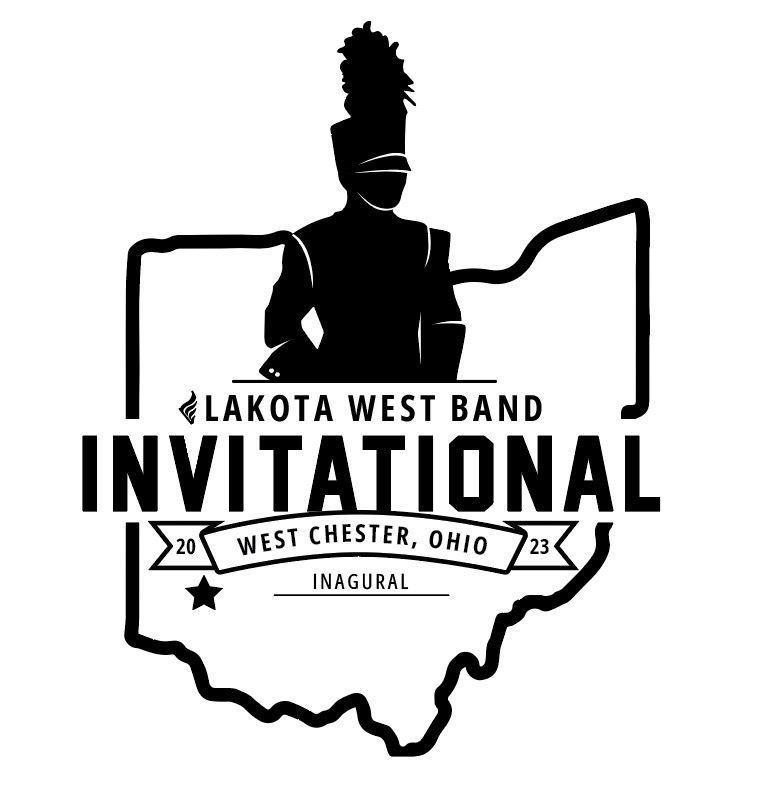 ---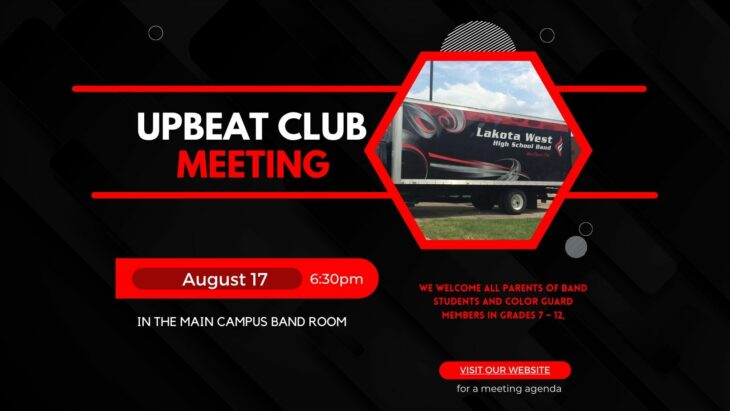 Make sure you plan on joining us for our first Upbeat Club Meeting of the school year!
There is a lot happening and even more coming up, hear all the details from our Directors and Upbeat Club Executives.
No better way to know what is going on behind the scenes!
---
We want to thank EVERYONE who played a part in helping with our 2023 Band Camp! Whether you put in a lot of time or came for 1 shift, you are appreciated and you helped make camp successful! Thank you!!!!