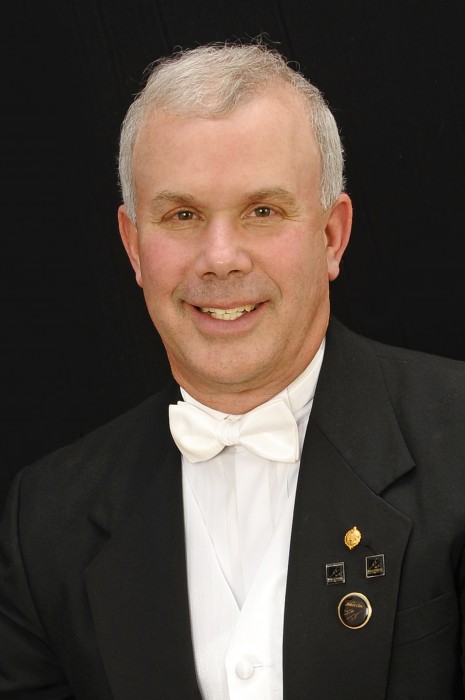 Gregory Snyder retired in 2015, after 35 years of teaching and conducting and his 27th year as director of bands in the Lakota School District, West Chester, Ohio. He spent nine years at Lakota High School, and the last eighteen years at Lakota West High School. Mr. Snyder directed Symphonic Winds; Symphonic Red Band; Symphonic White Band and the Marching Firebirds. He assisted with the two Lakota West Freshman concert bands. Prior to his tenure at Lakota, he served as assistant director for five years and director of bands for three years in the Clyde-Green Springs School District, Clyde, Ohio.
Under Mr. Snyder's direction, Symphonic Winds earned a superior in Class AA Ohio Music Education Association (OMEA) state competition since 1992. For two decades, Lakota/Lakota West students were awarded the most positions in OMEA All-State Ensembles each year. Mr. Snyder partnered with the Cincinnati Symphony Orchestra (CSO), performing Community Concerts in 2007 and 2010. In 2015 he had the rare privilege of performing with Symphonic Winds at the iconic home of the CSO, Cincinnati Music Hall. Prior major performances include: Great Southern Contest of Champions, Orlando, 1990; Bowling Green State University New Music Reading Clinic, 1993 and 1998; Dixie Classic Music Festival (grand champion award), Chattanooga/Atlanta/Richmond, 1995, 1998 and 2010; Toronto Music Festival, 1996; Music in the Parks Festival, Chicago, 1999; 30th Annual Ohio Band Directors Conference, University of Akron, 2001; New Concert Band Music Reading Clinic, Capital University, 2002; OMEA State Convention, Cincinnati/Dayton/Columbus/Cleveland, 1992, 1996, 2004 and 2015; European tour with performances in Paris, Brussels, and London, 2004; won the Jupiter National Concert Band Competition, performing with the Boston Brass, 2008; Youngstown State University Wind and Percussion Invitational, 2008; Rutgers University Music Festival, New Brunswick, 2010 and Branson Music Festival, 2013. Symphonic Winds was invited to perform at the world-renowned Midwest Band and Orchestra Clinic in Chicago three times, a first for Ohio, in 2000, 2006 and 2011.
The Lakota Marching Thunderbirds and Lakota West Marching Firebirds earned more than 70 grand champion awards under Mr. Snyder's direction. They were invited to march in the Reds Opening Day Parade and to perform as the Bengals' halftime show several times over the years. Additional major performances include: The Great Southern Contest of Champions, Orlando, 1990; the Philadelphia Thanksgiving Day Parade, 1991. Disney's Magic Music Days, Orlando, 1993 and 1996; the Hollywood Christmas Parade, 1999; the Citrus Bowl, New Orleans, 2003; Pearl Harbor and the Waikiki Holiday Parade, Maui, 2005; the 119th Tournament of Roses Parade, Pasadena, 2008; Disney World and Universal Studios, Orlando, 2010; the 87th Annual Macy's Thanksgiving Day Parade, New York City, 2013, and the 126th Tournament of Roses Parade, Pasadena, 2015.
Mr. Snyder is an elected member of the exclusive American Bandmasters Association. He was awarded the Distinguished Alumni Award from Bowling Green State University, College of Musical Arts, in 2014. In recognition of his accomplishments and "extraordinary success," the Ohio State House of Representatives and the Ohio Senate officially commended Mr. Snyder in 2014. Frequently requested as a clinician and guest conductor in Ohio and across the country, his most recent engagements include: The Idaho High School Music Festival; the East Tennessee All-State Band; the Sutherland Wind Festival at Fresno State University and the Northern Kentucky Select Band. Mr. Snyder crafted a proprietary program on how to develop musicians through chamber music in 2000, presenting how-to-style clinics at the 2004 Midwest Band and Orchestra Clinic and the 2005 OMEA State Conference. He is recognized as a visionary on the topic, penning an article for the TRIAD professional journal, "Chamber Playing's Impact: Bringing Your Students out of the Audible Shadow." Serving as both large group and solo and ensemble adjudicator for OMEA, Mr. Snyder has chaired many OMEA adjudicated events, including the 1994 and 2002 Ohio All-State Band; he served as All-State Chair in 2010. Mr. Snyder is past-president of OMEA, District XIII.  He is a member of Phi Beta Mu and Music Educators National Conference.
Mr. Snyder has a bachelor of music degree from Bowling Green State University, Bowling Green, Ohio, and a master of music education degree from VanderCook College of Music, Chicago, Illinois.  He acquired additional post-graduate work from the College-Conservatory of Music at the University of Cincinnati, Miami University and Boston University.
To solicit their expertise, Mr. Snyder invited many prominent composers and conductors to conduct Lakota/Lakota West Bands, including: David Booth, John Bourgeois, Geoffrey Brand, Marcellus Brown, John Climer, Eugene Corporon, Raymond Cramer, James Curnow, Elliot Del Borgo, Stephen Gage, David Gillingham, Gary Gilroy, Gary Green, Joseph Hermann, Robert Jorgensen, Brant Karrick, Mark S. Kelly, Craig Kirchhoff, Barry Kopetz, Edward Lisk, Donald McGinnis, Stephen Melillo, Stan Michalski, Russel Mikkelson, Glenn Price, Ryan Nowlin, Alfred Reed, David Shaffer, Robert Sheldon, Phillip Sparke, Gary Speck, James Swearingen, Mallory Thompson, Jan van der Roost, Myron Welch, John Whitwell, Frank Wickes, and Rodney Winther.
Mr. Snyder resides in Nashville, Tennessee, where he mentors and consults with area school districts and judges and clinics bands. He is an adjunct professor of music for Bowling Green State University. Mr. Snyder is also a conductor for American Music Abroad (http://www.americanmusicabroad.com), leading student music groups on high caliber performance tours throughout Europe. He and his wife Sandra have two sons. Alexander is a band director at Two Rivers Middle School in Nashville, Tennessee; Adam is a third year law student at Emory School of Law in Atlanta, Georgia.
To contact Mr. Snyder: gregsnyder1458@gmail.com.