Greg Snyder, Director
513-874-5699 ext 10185
greg.snyder@lakotaonline.com
Congratulations, Mr. Snyder!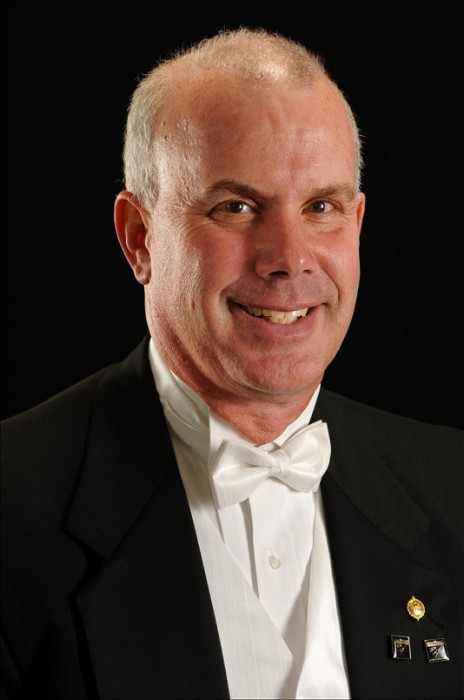 Lakota West Band Director Greg Snyder was inducted into the elite ranks of the American Bandmasters Association (ABA) at its convention in San Luis Obispo, California in March, 2007.
The ABA is considered the most prestigious organization for concert band conductors of distinction. Its invitation-only membership ranks include professional, military, university, high school and community band directors. Among its most notable members is legendary bandmaster John Philip Sousa, who was named the first honorary life president in 1929.
To be considered, a band director must be nominated by an active member of ABA and a recording of the nominee's band must be reviewed by the organization. Of the 290 active members, only 30 are high school band directors. To learn more about the American Bandmasters Association, CLICK HERE for its web site.
Experience. Greg Snyder has been director of bands in the Lakota Local School District since 1987. The Lakota School District is in West Chester Township and Liberty Township, Ohio, near northwest suburbs of Cincinnati. Since Mr. Snyder arrived at Lakota, the high school band program has grown from 100 students in grades 9-12 to more than 800 district-wide.
Mr. Snyder spent the first nine years at Lakota High School before it split into Lakota West and Lakota East High Schools. At Lakota West, Mr. Snyder directs Symphonic Winds, Symphonic Red Band, Symphonic White Band, and the Marching Firebirds. He assists with Concert Band and at the Lakota West Freshman Campus with two concert bands. Prior to his tenure at Lakota, he served as assistant for five years and director of bands for three years in the Clyde-Green Springs School District (Clyde, Ohio).
Performances. Under Mr. Snyder's direction, the Lakota West High School Symphonic Winds has received a superior at State in OMEA Class AA since the first year of Lakota West in 1998. Major performances have included:
Bowling Green State University New Music Reading Clinic – 1998
Dixie Classic Music Festival in Atlanta – 1998
Music in the Parks Festival in Chicago – 1999
The Midwest Band and Orchestra Clinic in Chicago – 2000
30th Ohio Band Directors Conference, University of Akron – 2001
New Concert Band Music Reading Clinic at Capital University – 2002
OMEA State Convention in Columbus – 2004
European tour performances in Paris, Brussels, and London – 2004
The Midwest Band and Orchestra Clinic in Chicago – 2006
Dixie Classic in Washington, D.C., and Rutgers University – 2010
The Midwest Band and Orchestra Clinic in Chicago – December, 2011
The Lakota West Marching Firebirds have earned over 35 Grand Champion awards since the formation of the school. The Marching Firebirds have earned a superior in class AA at state finals each year, as well as a superior rating at every OMEA marching band competition entered. The Firebirds marched in the 1999 Hollywood Christmas Parade and at the 2003 Sugar Bowl in New Orleans. In November, 2005, the band traveled to Hawaii to perform at Pearl Harbor and in the Waikiki Holiday Parade. In January, 2008, the band became the first from Cincinnati and southwest Ohio to march in the Tournament of Roses Parade in Pasadena, California.  n December, 2010, the Marching Firebirds visited Orlando, Florida, and performed at Disney World and Universal Studios. In November 2013, the Marching Firebirds traveled to New York City to perform in the 2013 Macy's Thanksgiving Day Parade.  In January 2015, the Marching Firebirds will return to Pasadena, California for their second appearance in the 2015 Tournament of Roses Parade.
Education. A graduate of Massillon Perry High School, Mr. Snyder has a bachelor's of music education degree from Bowling Green State University and a master's degree in music education from VanderCook College of Music, Chicago, Ill. He has acquired additional work from the College Conservatory of Music of the University of Cincinnati and from Miami University.
Professional Activity. Currently serving as both large group and solo and ensemble adjudicator, Mr. Snyder is a member of the American Bandmasters Association and the Ohio Music Education Association (OMEA). He is also a member of Phi Beta Mu and Music Educators National Conference. Mr. Snyder has chaired many OMEA adjudicated events, including the 1994 and 2002 Ohio All-State Band. In 2004 Mr. Snyder presented clinics on chamber playing at OMEA and the Midwest Band and Orchestra Clinic. He is past president of OMEA District XIII.
Mr. Snyder's bands have been directed and/or adjudicated by many prominent composers and conductors, including: David Booth, John Climer, Eugene Corporon, James Curnow, Raymond Cramer, Elliot Del Borgo, Stephen Gage, Gary Green, Joseph Hermann, Robert Jorensen, Mark Kelly, Barry Kopetz, Edward Lisk, Russel Mikkelson, Alfred Reed, David Shaffer, Phillip Sparke, Gary Speck, James Swearingen, Mallory Thompson, Jan van der Roost, Myron Welch, John Whitwell, Rodney Winther, and Frank Wickes.
Mr. Snyder resides in West Chester with his wife Sandra The Snyders have two sons, Alex and Adam.