Alumni
Greg Snyder Retirement Dinner
Please join us at 6:00 p.m. on February 28, 2015 to celebrate Greg Snyder as he retires from his 35 year career as a high school band director. The retirement dinner and celebration will be held at the Tri-County Baptist Church,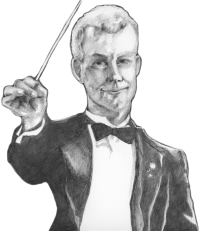 8195 Beckett Road, West Chester, OH 45069.
Tickets for the dinner are  $35.00 and must be purchased in advance. Please CLICK HERE to pay by credit card through the Lakota West Upbeat Club's secure PayPal account. If you have your own free PayPal account, you can also make payments directly from your checking account. Your PayPal receipt is your ticket.
The retirement dinner for Mr. Snyder is sponsored by band alumni and alumni parents  to recognize a dedicated director and support our band students with scholarships.
Lakota Marching Thunderbirds and Lakota West Marching Firebirds Through the Years
This video was a stroll down memory lane for the nearly 130 alumni who were able to attend the 2014 Homecoming Band/Mr. Snyder Celebration event on Friday, October 17 2014. It includes snippets of each competition show from 1988-2013.
Alumni Homecoming Weekend
October 17-19, 2014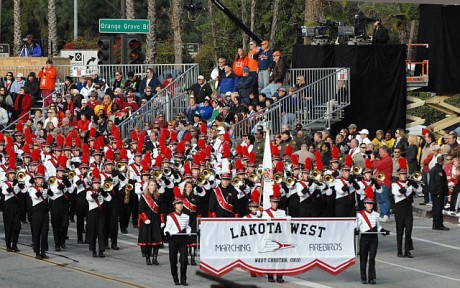 Lakota/Lakota West Band Alumni Reunion
and Retirement Celebration Weekend!
Please read below for details regarding all of the activities scheduled for the Alumni Homecoming Weekend.  Once you determine which activities you would like to participate, simply click on the "Register Now" button and complete your sign-up information.  Payments for the weekend activities can be completed though our PayPal shopping cart by clicking on the "Pay Now" button located at the bottom of the weekend activities list.
Friday Night Homecoming Game Performance
Join your friends and fellow Lakota and Lakota West Band alumni on Friday, October 17 to celebrate Homecoming 2014 when the Lakota West Firebirds take on the Mason Comets at Lakota West High School's Stadium! Block out the whole afternoon for a music and marching rehearsal with West's band, a reunion dinner with all of your Thunderbird and Firebird friends and an evening marching performance at the Homecoming game. The special event also celebrates the legacy of Mr. Snyder as he marks his final year with Lakota. You won't want to miss it!
Timeline:
3:30pm:  Registration opens
4:00pm: Color guard rehearsal
4:30pm: Music and marching rehearsal
5:30pm: Dinner and mingling
6:30pm: Meet in auditorium to line-up and march out together, combine ensembles to march in the Homecoming parade at the stadium together
7:30pm: Game starts, combined performance at Halftime
Fee: The cost to participate is just $25 and includes a personalized t-shirt with your graduation year, an Italian dinner with the high school band and your entry to the game.
Uniform: The shirt will be provided upon arrival. Please plan to wear black pants, black socks, black belt, black undershirt and black shoes.
Instrument: All woodwinds are required to bring their own instruments and required reeds. Marching brass instruments will be provided if they are needed. Please plan to bring your own if you have one as instruments are limited. For marching brass, please plan to bring your own mouthpiece if you have access to one. If one is needed, please note that in the relevant area on the sign-up form.
Non-Performing Alumni:  Maybe it has been a few years since you have picked up a horn but would still like to participate in the Friday night alumni activities except marching in the game.  No problem, simply indicate on the registration form that you are a Non-Performing Alumni and you will still receive a personalized t-shirt with your graduation year, an Italian dinner with the high school band and your entry to the game for the $25 registration fee.
Music: Music for Friday night performance will be emailed to Alumni upon completion of registration. Hard copies of all music will be handed out at check-in.
Deadline: All registrations must be received no later than September 29, 2014 in order to ensure you have a personalized shirt. Registration can still be completed after this date, but will receive plain shirt without graduation year. Walk-up registrations will not be guaranteed to march – so be sure to register early!
Registration: On-line registration is now CLOSED but walk-ons will be accepted at the event on Friday night, please bring cash or a check (payable to Lakota West Upbeat Club) for $25/person.
Payments:  Payments for weekend activities can be completed by clicking on the PAY NOW button at the bottom of the list of weekend activities. After you complete your registration form, you will need to come back to the PayPal page for payment of weekend activities.
Lakota/Lakota West Family Night at the Farm
On Saturday, October 18, bring your whole family to Niederman Family Farm for an evening celebrating the fall with your fellow band alums! The Fall Festival at Niederman is a seasonal extravaganza, including a wide variety of activities for adults and children, alike. Your $10 admission fee (Children 2 and under are FREE) includes a bonfire, hayride, jumping pillow, barrel train, play area, pig races, farm animals, pumpkin patch and their incredible corn maze! The fun starts at 4:00pm and goes until 10:00pm. We will be reserving a campfire just for our group, so bring anything you would like to roast or snack on and come enjoy a fun evening under the stars at Family Night at the Farm!  Click HERE to learn more about Niederman Family Farm!
After 10/10/14, pre-payments for Niederman Family Night will no longer be accepted on-line.  Tickets may still be purchased the night of the event at Niederman Farm.
Lakota West Marching Firebirds Dough Raiser @ Uno Pizzeria & Grill
On Sunday, October 19, bring the whole family and support the Lakota West Marching Firebirds trip to Pasadena while dining at Uno Pizzeria & Grill, 11:00am – 8:00pm.  Uno's is located at 9246 Schulze Drive – near Union Centre Blvd. and Mulhauser Rd.
The event includes:
All You Can Eat Buffet

of Uno's famous pizza, pasta, chicken, fish, salads, and soft drinks.

Face painting, balloon animals, magicians
Live Music
o   Jazz and chamber music (inside)
o   Drumline and marching tunes (outside)
Afternoon

Alumni Jam Session

 (Click HERE to sign-up)

1:30-4:30pm

Bring your horn, bass, or guitar – keyboard, drum set, and amps provided

Head charts from Real Books Vol I & II provided; bring a copy if you have one
Uno's Dough Raiser Ticket prices: 
Under 3 years old – FREE   
4-10 years old — $7 
Over 10 years old  — $15
Click HERE to purchase tickets for the Uno's Dough Raiser Event on Sunday, October 19, 2014.
 …………………………………………………………………………
Alumni Facebook Page
ALUMNI FACEBOOK PAGE: Stay connected to your fellow Alumni band friends and family by joining the Lakota/Lakota West band alumni Facebook page. Click HERE  to be directed to the alumni page on Facebook!
 …………………………………………………………………………
Support the Lakota West Bands
Make a Tax-Deductible Donation by Check Payable to:
Lakota West Upbeat Club P.O. Box 1637 West Chester, OH 45071-1637
Or  make a Tax-Deductible Donation by Credit Card
………………………………………………………………………..
Lyrics to the Lakota West Alma Mater
For Friends that we made and the mem'ries we share,
We honor Lakota West;
Our heritage from which tradition is made is always to be among the best.
Tho' time and change can mem'ry fade,
We'll always remember you, West;
Lakota is unity, friends, brotherhood,
We Honor Lakota West!