Alumni
Alumni Homecoming Weekend
October 17-19, 2014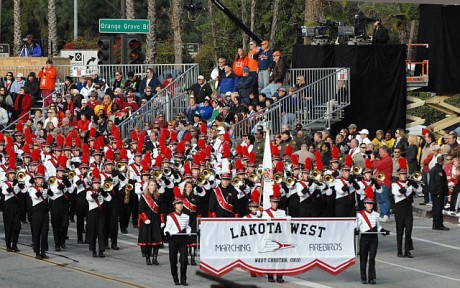 ALUMNI HOMECOMING  BAND!   Attn: Lakota/Lakota West Band Alumni. Tentative plans for the weekend include multiple events – a band alumni/current band halftime performance at the Homecoming game, a band alumni event on Saturday, and attendance at the Uno's Doughraiser  fundraiser on Sunday. 
ALUMNI FACEBOOK PAGE: If you have a band alumni in your family, Lakota/Lakota West band alumni can join the band alumni Facebook page. Click HERE  for more information!
 …………………………………………………………………………

Support the Lakota West Bands
Make a Tax-Deductible Donation by Check Payable to:
Lakota West Upbeat Club
P.O. Box 1637
West Chester, OH 45071-1637
Or Click HERE to make a Tax-Deductible Donation by Credit Card
………………………………………………………………………..
Lyrics to the Lakota West Alma Mater
For Friends that we made and the mem'ries we share,
We honor Lakota West;
Our heritage from which tradition is made
is always to be among the best.
Tho' time and change can mem'ry fade,
We'll always remember you, West;
Lakota is unity, friends, brotherhood,
We Honor Lakota West!