Plains Junior School Bands
2012-2013 Handbook  |  Private Lesson List  |  Private Lesson Verification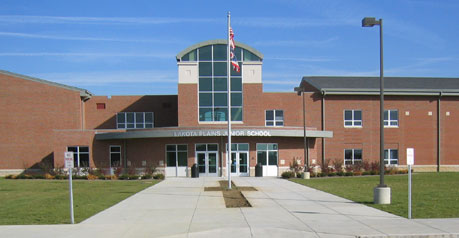 Welcome Plains Jr. High Parents and Students
Dear Plains Parents and Students,
My name is Phil Chumley and I am the "new-old" band director for Lakota Plains.  For those of you who don't already know me, I was the first band director at Lakota Plains starting when the school opened and I was there for seven years before being transferred to Lakota West High School where I have served in the capacity of Assistant Director of Bands for Lakota West High and Lakota West Freshman School.  I graduated from the University of Maryland, College Park, MD (a long time ago) with a degree in Music Education and I pursued my Master's degree in Clarinet performance there as well.
While at Plains, my bands performed at the highest level in the Ohio Music Education Association Large Group Adjudicated Event, Class A and achieved Superior ratings.  In 2006, the Plains 8th Grade Band traveled to Cleveland, OH to participate in the OMEA Professional Development Conference and in 2008, the 8th Grade Band was a featured performer at the OMEA Professional Development Conference held here in Cincinnati.  As Assistant Director of Bands at Lakota West, I've traveled with the Marching Firebirds to Florida to participate in the Universal Studios and Disney Holiday parades in 2010, the Macy's Thanksgiving Day Parade 2013 and will be traveling with the Marching Band on its trip to the Tournament of Roses Parade this New Year's Day, Jan 1, 2015.  I also traveled with the Lakota West Symphonic Winds to the 2011 Midwest Clinic in Chicago, Ill, the most prestigious performance venue for a high school concert band in America where I was honored to guest conduct Symphonic Winds.
I am looking forward to returning to Plains to work with both the staff and students.  I hope you will check this page often for announcements and updates about band at Lakota Plains.  We get started very soon, students will NOT need instruments on the first day of school, August 13, 2015.  I hope to see all of you at Curriculum Night.  I don't have the date for that just yet.  That will be announced as soon as it's established.
Please feel free to contact me via the information below.  I look forward to seeing you all very soon.
Phil Chumley Director of Bands Lakota Plains Junior School 5500 Princeton Road Liberty Township, OH   45011 513-644-1130 x11165
phillip.chumley@lakotaonline.com