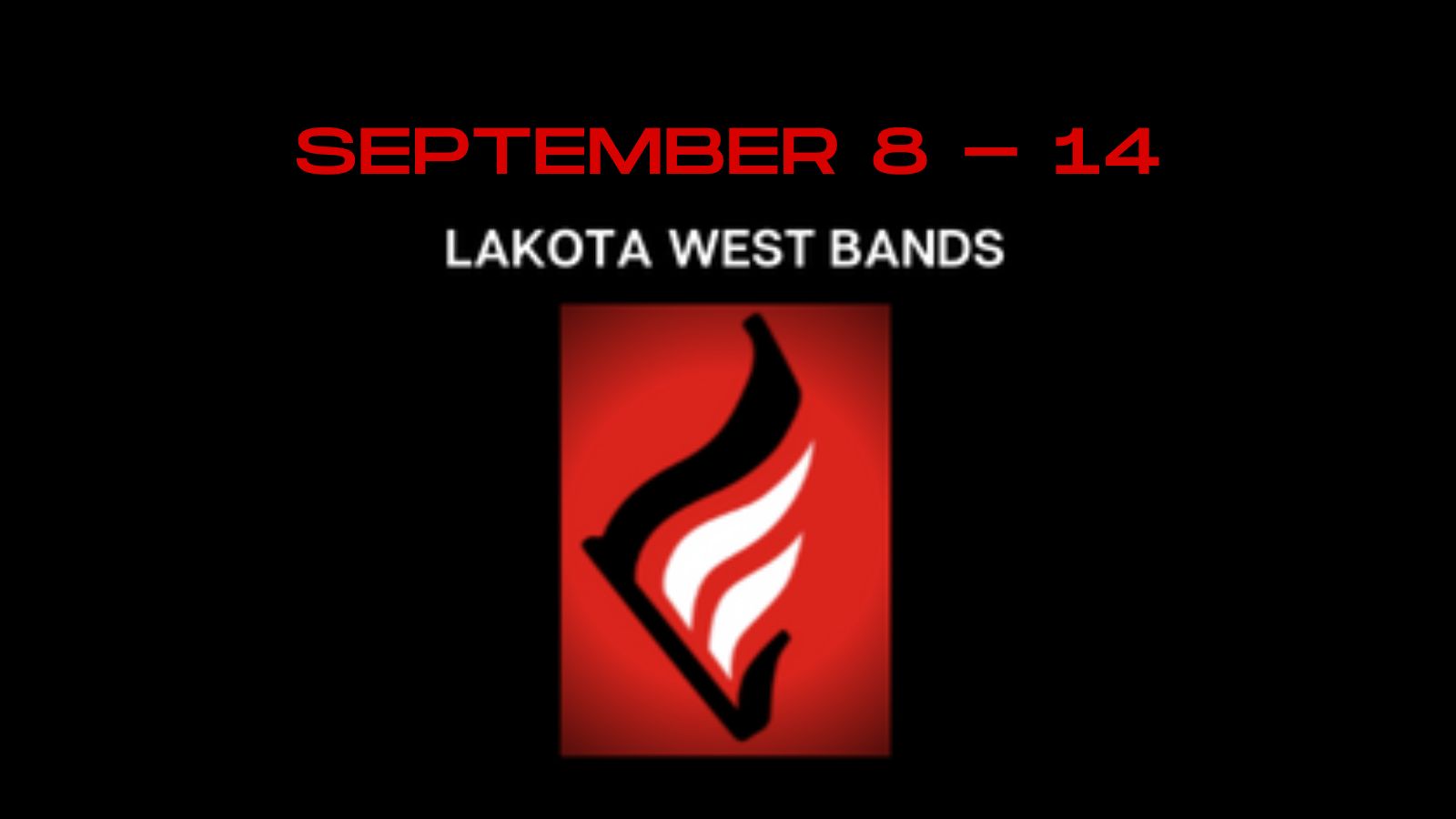 Upcoming
**This list does not include any section rehearsals or schedules**
TONIGHT | Football game with band night | 4pm | Main Campus
Saturday 9/9 | Camp Day | 1-9pm (dinner break 5-6pm on or off campus) | West Main Campus
Monday 9/11 | Rehearsal | 6-9pm | West Main Campus
Tuesday 9/12 | Taste for Music | Wings & Rings | 5-8pm | Plum Square Location
Wednesday 9/13 | Rehearsal | 3:45-6 | Main Campus
Thursday 9/14 | Rehearsal | 6-9pm | Main Campus
---
Calendar Winners (up-to-date)
September 1: Bill Trentman | sold by Maxwell Trentman
September 2: Phil Preston | sold by Russell Preston
September 3: Kathy Penney | sold by Evan Kershaw
September 4: Erin Horning | sold by Mariella O'Donnell
September 5: Holly Burgess | sold by Holden Burgess
September 6: Jing Chen | sold by Lang Chen
September 7: Patti Celek | sold by Lakota West Bands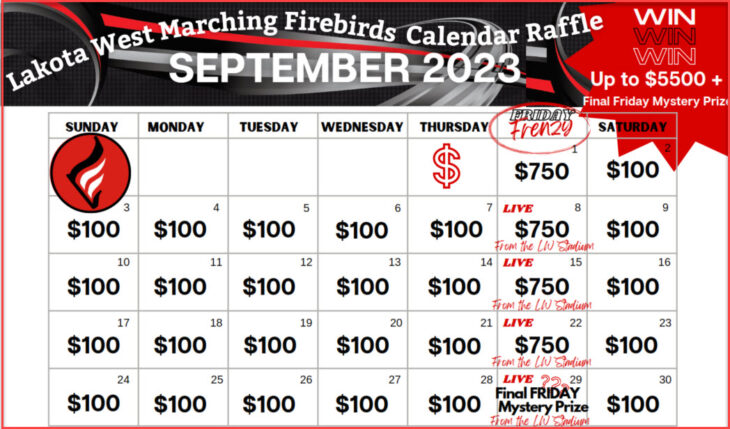 ---
Another Opportunity to win some MONEY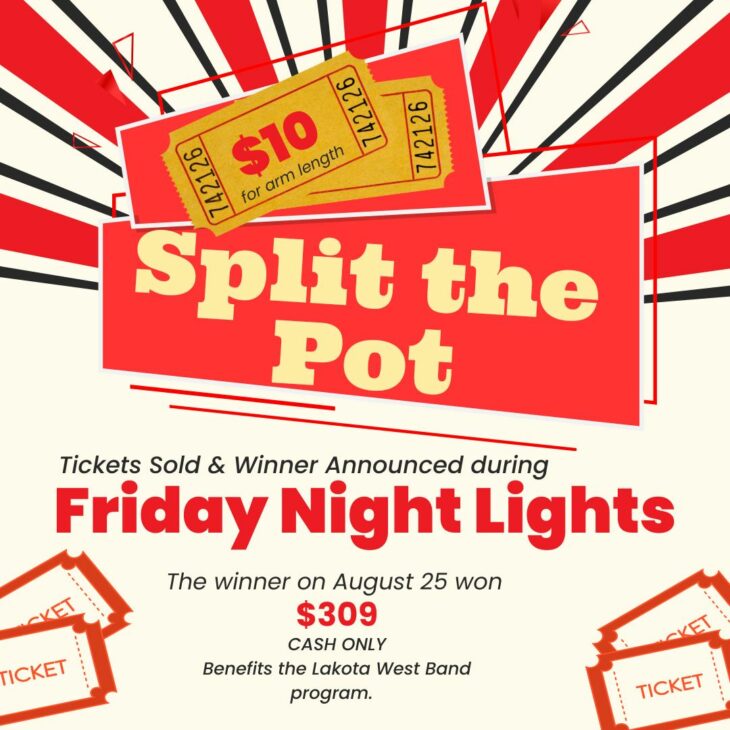 Did you know Split the Pot at football games goes straight to the band?
If you're joining us at the game tonight, look for our Split the Pot team near the gate or in the stands to purchase your tickets!! Our last winner won $309, not bad for a Friday night at Lakota West. Help us grow the pot and generate even more support from those around you in the stands with your purchase.
$1/each
$10/arm length
$20 Firebird wingspan
Winning ticket announced at end of halftime.
CASH ONLY
---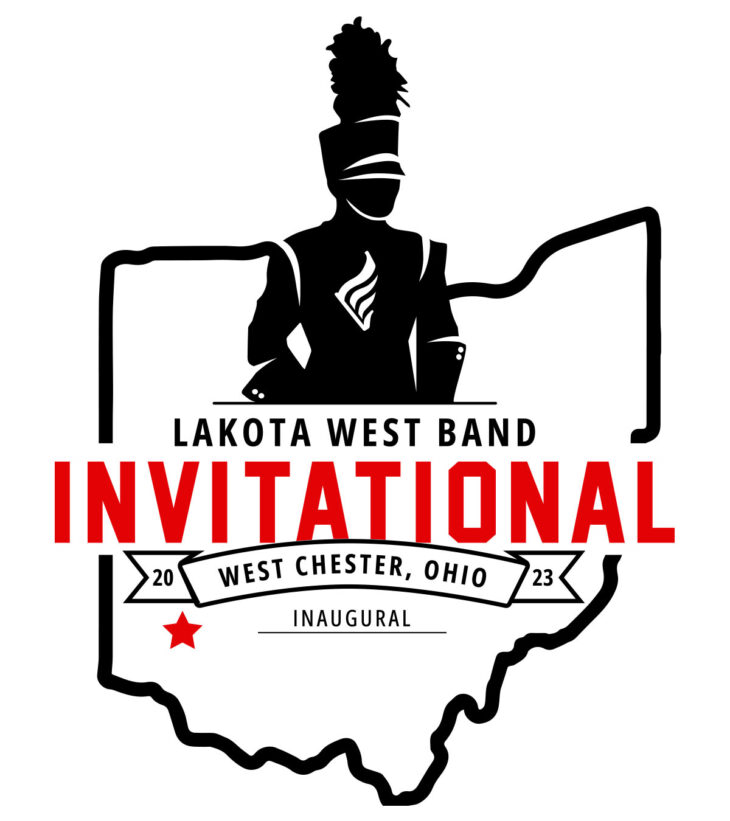 Our Inaugural Lakota West Band Invitational will be taking place NEXT SATURDAY and we need your help! Join us for this fun day!
Adults signup HERE.
Students signup HERE.
Food Donations signup HERE.
We are seeking trophy sponsors. If you, your family, or your company, is interested in this $75 sponsorship, please reach out to invitational@lakotawestbands.org or Michelle Rowe at 513-546-7741.
An email was sent through Charms on Wednesday with additional details.
Check out our WEBSITE for schedule details, concession offerings, merchandise and more!
---
Volunteer Needs
Competition Bus Chaperones – Assist our students & directors on bus trips to competitions. Sign up HERE or reach out to bus@lakotawestbands.org for additional information.
Tech Team Volunteers – Assist with running the website &/or running live streams. For more information, reach out to web@lakotawestbands.org.
Upbeat Club Volunteers
Mattress Sale- looking for a liaison between the mattress company and the upbeat club & families to lead the communication & marketing.
Swing Dance- Event occurs in December. Lead a team of committees to plan this event.
Try Band- Co-Coordinate an event that brings band to 6th graders to try instruments before they make class (& instrument) selections for Junior High.
Support for all of these positions will be provided! If interested, reach out to president@lakotawestbands.org.
Football Game Concessions – New this year, the Athletic Boosters is extending the offer for every shift worked, band will earn $25. See more details and signup HERE.
Invitational – Student & Adult volunteers needed. Food Donations needed.
---
unXplained Show Shirts NOW AVAILABLE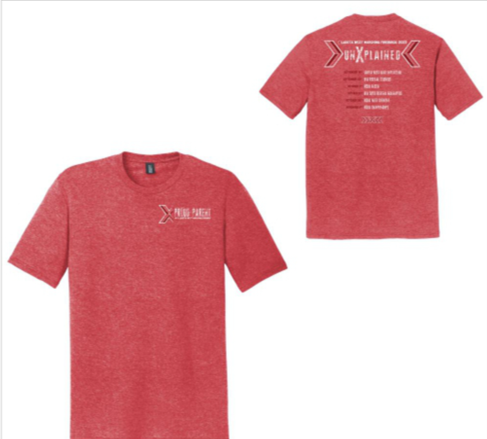 Get your 2023 Marching Band "unXplained" Show shirt HERE.
Choose your style – Pit Crew, Proud Parent, Senior, Long sleeve, short sleeve, V-neck, crew neck
Choose your color – Red or Blue
$22-$30
---
Save the Dates
9/15 | Family Tailgate
9/16 | Lakota West Invitational
9/21 | Upbeat Club Meeting
9/23 | Competition – BOA Obetz
---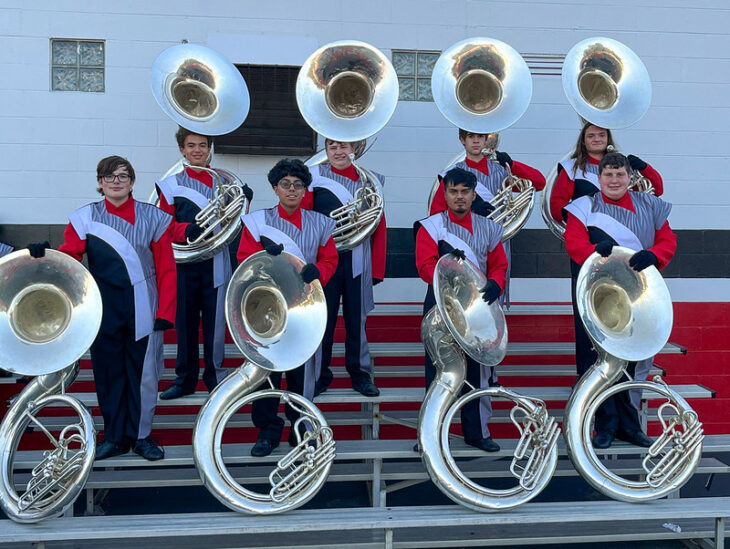 Thank you to our EXTRAORDINARY photography team for capturing each of our Marching Firebirds!! All photos are posted to our Flickr account. The whole group panoramic print can be purchased HERE, it is not available for digital download.
We are asking for a $5 donation for the photos. Funds will be directed to our photography team to aid in the purchase of items to continue taking phenomenal photos for us.