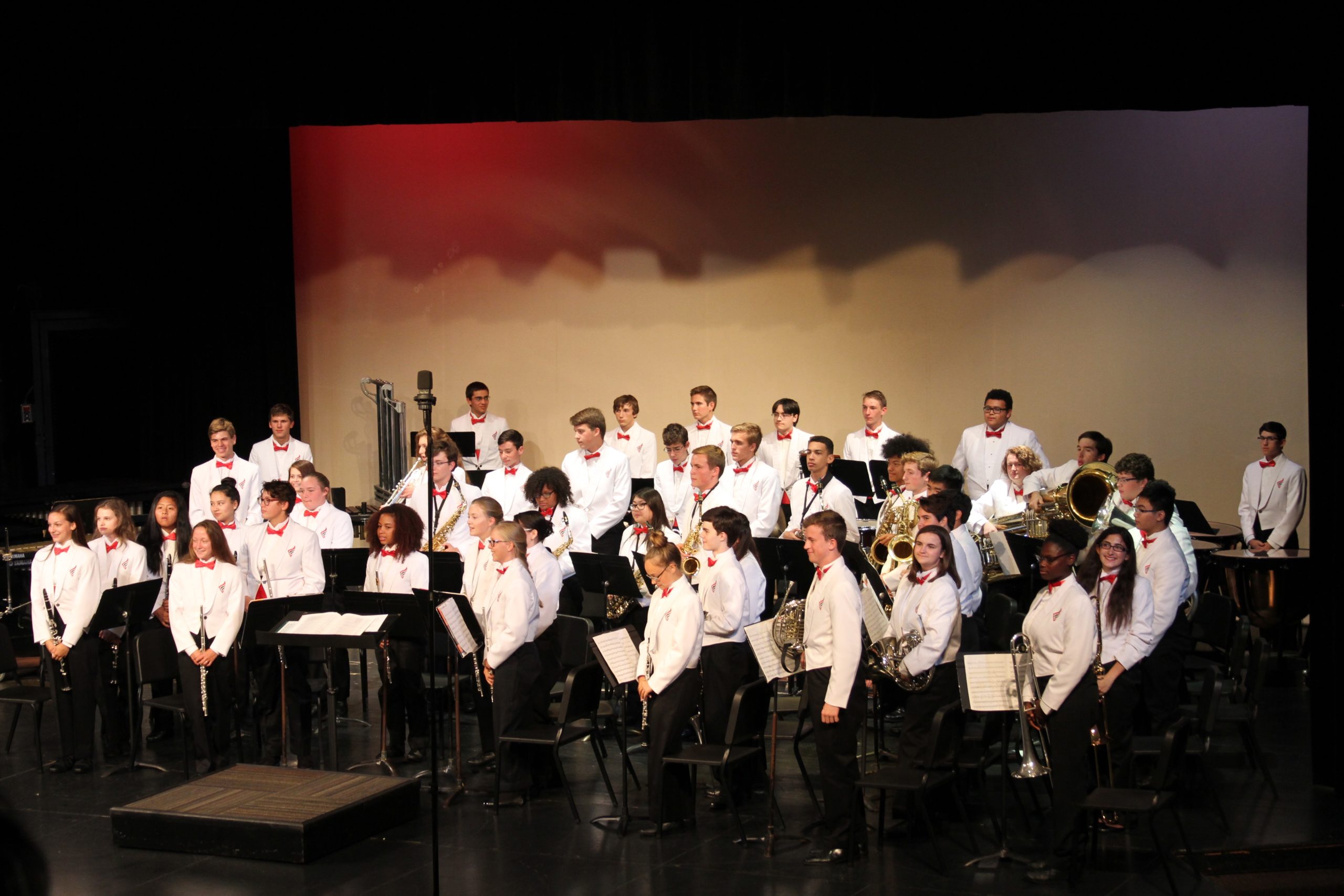 Freshman, Concert Band, Symphonic, and Jazz Band Uniform
For Gentleman:
Black Dress Shoes (closed toe, Drill Masters are acceptable, no gym shoes)
Long Black Socks (long, not crew or short socks, no logos visible).  Socks should be long enough that no bare leg shows when student is sitting.
Black Dress Pants/Slacks (no jeans or sweatpants)
Black Belt (Plain)
Black Button Down Dress Shirt (long sleeves, not polo)
Tie (Long tie or bow tie is fine, any color allowed; black, white, and red preferable)
For Ladies:
Black, closed toe dress shoes (some embellishments are fine, no strong colors, no sandals, top of foot should be covered)
Socks/Hosiery (whatever is appropriate for the shoes you have chosen)
Pants or Skirt (skirts should be below the knee when standing, leggings alone are not allowed)
Black Blouse (many styles are acceptable, collars and lace are fine as long as they are black)
Hair Bows/Accessories are fine as long as they are black/white/red/silver and don't block views
Students may wear clothing traditionally assigned to the opposite gender. All students should choose the outfit that makes them comfortable, while giving the ensemble a cohesive look.
Symphonic Winds Uniform
For the gentlemen:
White tuxedo shirt – students purchase on their own (one option is through Stage Accents).  Should be white, wing-tip collar, pleated front.
Black Cummerbund $10 – students order & pay uniform committee
Black Bow Tie $5 – students order & pay uniform committee
Black socks – students purchase on their own. Please make sure they come up high enough to cover bare legs when sitting. We do not have spares.
Black Shoes (drill masters, dress shoe or other closed toe shoe. No sandals. Top of foot cannot be bare)
Concert Tuxedo Jacket and Pants – provided by the school with a protective garment bag
For the ladies:
Winds dress  – provided by the school
Pearl necklace is $8 – students order & pay uniform committee on Fitting Day.
Black stockings (may use knee high style, but make sure tops do not show while sitting)
Black shoes (closed toe, no sandals or flip-flops)
Questions? Please direct them to concertuniforms@lakotawestbands.org